Durban University Golden Key Chapter
What is Golden Key?
Golden Key is an international non-profit organisation which recognises excellence exemplified in academic achievements, leadership skills and community involvement. Golden Key International Honour Society is the world's largest collegiate honour society and was founded in Atlanta, Georgia USA. Golden Key recognises and encourages academic excellence amongst the top 15% of academic achievers attending tertiary institutions all around the world. Golden key consist of 2.4 Million members internationally, 130 000 of the members are South Africans, this includes DUT students as well. In South Africa there are 16 chapters or universities affiliated with Golden Key.
What are the benefits of being part an international honour society?
Life time membership
Academic recognition on an international level
Assess to financial rewards in the form of scholarships and awards.
Publications, including e-newsletters and campaigns
Networking opportunities in academic, corporate circles; and through social media
Community service opportunities with a focus on the literacy, education and real- world preparedness of at- risk youth.
Career development and internship opportunities through corporate partners, webinars and e- communications
Who can join?
Students get to join the organisation by invitation only. The student must be in a degree programme, have completed at least one full academic year and must have a high average or must be a top achiever. Students who have diploma qualification qualify to join Golden Key once they have received their BTech qualification.
Visit the following website for more on Golden key: www.goldenkey.org or contact DUT Chapter Advisor Ayanda Mthethwa via email AyandaM8@dut.ac.za
---
Golden Key Gallery
Members Inducted on 2019 on The New Member Recognition Ceremony
---
The Executive Committtee – Team 2020



DUT GK Chapter President

Thobile Ndlazi is currently doing her second year in her masters degree (Human Resource Management). She was born and raised in Richards Bay, KwaMbonambi. Her personal motto in life is: "work hard, pray hard and play hard". She strongly believes in academic excellence and helping those in need, which motivated her to take up the portfolio of president in the DUT chapter.
---
DUT GK Chapter Vice President

Vedhan Singh, an award-winning and emerging Pan-African figure, is a socio-spiritual activist for human rights. He has represented South Africa and the Southern African Region at the African Union and the United Nations. His area of expertise includes interfaith dialogue, interface relations, minority rights, peace and security. Singh serves as a communications advisor specialising in government marketing and international communications. He holds a Bachelor of Technology in Marketing from DUT and is currently pursuing his masters degree.
---


DUT GK Chapter Secretary

Nombulelo Ndlovu was born and bred in Estcourt and is passionate about education, serving and leading. She completed her National Diploma and B-Tech Degree in Office Management and Technology with Cum Laude Pass. She is currently pursuing her masters degree in Administration and Information Manage ment.
---
DUT GK Chapter Treasure

Avitha Dass is an upcoming specialist researcher and highly-skilled analytical chemist. She is presently pursuing her MSc: Chemistry at the Faculty of Applied Sciences at DUT. Dass has been at the forefront of research in the Green Chemistry Group at DUT. Currently, she is a research student based at the prestigious Moses Kotane Institute pioneering various research in Kwa Zulu Natal. She has also been instrumental in developing and implementing projects at the Council for Scientific and Industrial Research. Her peer-reviewed work has been featured internationally in partnership with CSIR and Lignotech.
---
DUT GK Chapter Service membership director

Aziel Kambounde graduated with a Bachelor of Education degree at the Durban University of Technology. Her personal motto in life is: "aspire to inspire before you expire". She ceased the opportunity of being part of an international honour society with the aim to make an impact and inspire other students.
---
Golden Key DUT Chapter Media Coverage
DUT GOLDEN KEY GIVES BACK TO THE YOUTH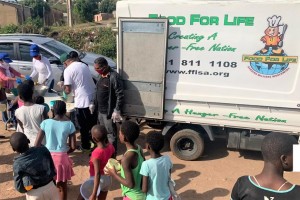 In commemoration of Youth Month, the Golden Key (GK) International Honour Society Durban University of Technology (DUT) Chapter in partnership with Food for Life South Africa (FFL SA) recently rolled out a massive feeding drive in the poverty-stricken area of Welbedacht in Chatsworth. This was part of their Youth Month campaign, offering a helping hand in response to the outbreak of COVID-19 and its effects on the area.
GK International Honour Society DUT collaborated with FFL SA on their mission of eradicating hunger and malnutrition in South Africa.
FFL SA helped to bring GK DUT Chapter's Youth Month programme to life by…ReadMore

GOLDEN KEY DUT CHAPTER PAMPER CHILDREN LIVING WITH DISABILITIES ON MANDELA DAY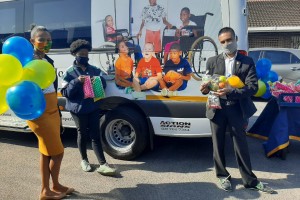 The Golden Key International Honour Society South Africa (GK SA) DUT Chapter decided to show some love to the children living with disabilities at the Sparks Estate Cheshire Home in Sydenham, Durban in commemoration of Mandela Day on Saturday, 18 July 2020.
GK SA DUT Chapter Advisor, Ayanda Mthethwa said due to the COVID-19 restrictions they dropped off a scrumptious lunch and goodie bags at the Home to offer their love and support to these children with severe mental and physical disabilities.
She said they would have loved to spend their 67 minutes in celebration of Nelson Mandela's legacy at the Home, interacting with the children but had to adhere to…ReadMore
---
Psychologists from Student Counselling running the Golden Key information tables 2019, on the DUT Durban and PMB campuses.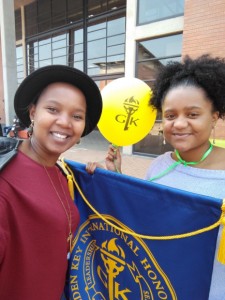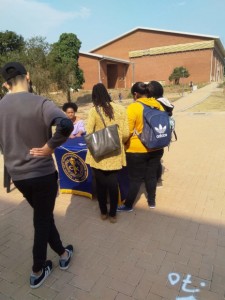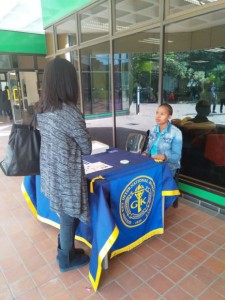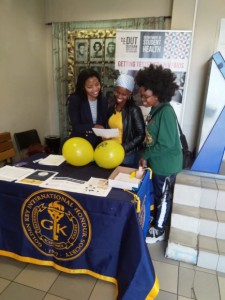 ---