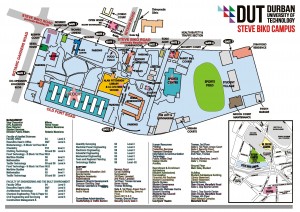 Counselling for students is primarily based at the Steve Biko Campus, lower library complex. Students can contact our receptionist to book (031-373-2266) or come into our centre to book an appointment.
We also offer on Campus Counselling at the City Campus on a Tuesday from 8.30am to 10.30am and at the Brickfield Campus on a Wednesday from 8.30am to 10.30am. We are only providing this service twice a week until we can re-evaluate the provision of the services. Students can book with our receptionist at Steve Biko Campus 031-373-2266 and can say if they would like to be seen on the City Campus or the Brickfield campus. Please note this service is by appointment only.
.

Location of Campus counselling:
Steve Biko Campus: Lower Library Complex, inside Student Counselling Centre. Next to financial Aid.
City Campus: The office is on the first floor opposite the deans office. Room 119 (white door).
DUT Counselling Midlands:
Student Counselling
Riverside Campus: J103/104
Indumiso Campus: Campus Clinic