Learning how to develop and deliver new ideas for a new venture or how business models work was the idea behind the three-day Idea Workshop which took place at DUT's Ritson Campus, Department of Information Technology from 17 to 19 July 2014.
Students from DUT's Information and Technology (IT) department got expert business tips during the Idea workshop conducted by Microsoft SA BizSpark Programme, in partnership with DUT and Invo Tech.
The Idea Workshop is run across South Africa by leading organisations including Microsoft, mLab, R Labs, the Bandwidth Barn, the Innovation Hub and Stellenbosch University.
Neil Hinrichsen, a successful and experienced South African entrepreneur was the main presenter during the workshop. The intensive educational workshop was aimed at helping IT students discover, developing and delivering new ideas for a business venture.
Cassim Vanker, an award winning lecturer in DUT's Department of Information technology said, "IT students have the necessary ingredients required to become entrepreneurs. Our third year projects are closely aligned to industry and our students are providing software development solutions to real world problems. So it makes sense that we embark on the next logical step, to empower our students to become entrepreneurs. This step support students via mentorship and guidance, through to monetize their software products."
"Invotech will provide the business incubation, mentorship and assistance while Microsoft would provide the necessary tools and platforms for our budding entrepreneurs," said Vanker.
Neil Hinrichsen whose last company was acquired for more than a billion rands gave students advice on how to open up new markets and possibilities for their start-ups.
Hinrichsen said, "The workshop has been really exciting and I really like all of the questions and the general interest the students have shown me."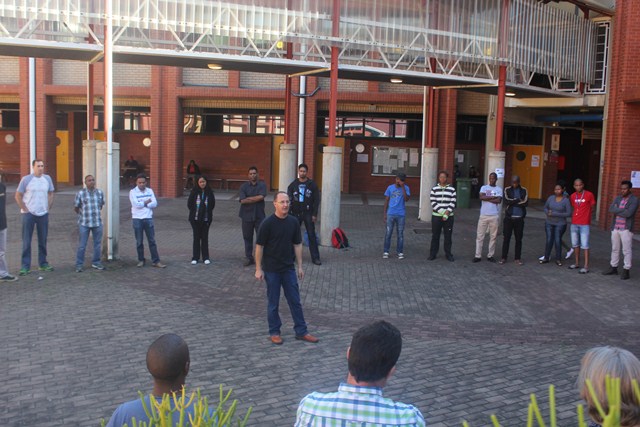 The first day of the workshop focused on exploring new spaces, technologies and business models. Students got lessons on how to develop, market monetize, and protect their innovations.
Sphelelo Cabashe who is doing his B-Tech in IT said, "The workshop will help me because I am thinking of becoming an entrepreneur and this presentation has driven me into that mindset of starting my own business instead of going to look for a job and work for somebody. This has helped me to go out and seek an idea that fixes a problem that exists within society."
The workshop concluded with lessons on how aspiring entrepreneurs can craft an eye catching story for new startups. IT students said they were now geared to build ideas that will excite their new markets and investors when they venture into entrepreneurships
– Gift Nyamapfene
Pictured: IT guru Neil Hinrichsen gives business tips at the Ideal Workshop at DUT's Ritson Campus.