Sweltering heat and even wardrobe malfunctions – which were experienced by some students – could not deter the excitement of 820 students who graduated at the Indumiso Hall, DUT Indumiso Campus, 15 FJ Sithole Road, Imbali, yesterday (Wednesday, 09 April 2014).
This was the first three of 14 graduation ceremonies constituted by DUT Chancellor; retired Justice Vuka Shabalalala, where degrees, diplomas and certificates were conferred upon the Pietermaritzburg students who had successfully completed all the requirements for graduation. Parents, students and lecturers converged at the hall for the prestigious ceremonies which are seen as the highlight of a student's academic life.
Graduands dressed immaculately for the event, especially female students, ensuring they had the right dress and matching high-heeled shoes, shedding tears of joy, shrieks of happiness and sighs of relief as they took to the stage to become alumnis of DUT. The faculties of Arts and Design (Education), Accounting and Informatics (Office Management and Technology; Financial Accounting and Cost and Management Accounting), Engineering and the Built Environment (Civil Engineering) and Health Sciences (Nursing) held their graduation ceremonies on the day, which also served as a historical occasion as the first batch of 52 nursing students (at the PMB Centre) graduated. Another highlight was student Shanley Hay, who obtained a Master's degree in Civil Engineering, the only Masters degree conferred for the day.
Student Shiarn Dukhanti was also very excited and blessed to have qualified for a diploma in Civil Engineering. His mother had come all the way from Dubai, the night before graduation, to surprise him and be present at his graduation.
"It is a proud and sad moment for us as a family. Proud for the fact that he has qualified, and sad because his dad and granddad are late and are not here to celebrate and acknowledge his achievement, so therefore I had to come down and witness his graduation myself. It is a really special day for him and for me as a parent," said Rani Dukhani proudly.
The ceremony included key guest speakers at the various graduate sessions throughout the day, each imparting their words of wisdom and encouragement to the students and parents.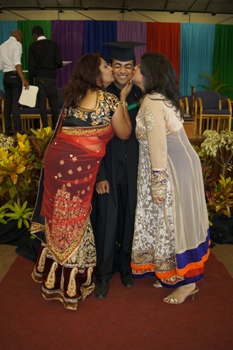 The first guest speaker (at the first graduation session) was Professor Karthy Govender, Professor of Law at UKZN. Prof Govender holds law degrees from England, South Africa and the US. Addressing the students, he spoke about the vital role of education and how students need to value education and always aim to excel in whatever career they chose.
Praising the role and value of parents, Ina Cronje; KZN Finance MEC, addressed the second graduation session.
"As parents we cannot sit back and hope for the best for our children, we still have a role to play and instil good values in our children for the future. To be successful graduates, you need to show you have the tenacity and prove yourself in the working world. Students, you carry a particular responsibility and now it's time to show that you can show your mentoring aspect, but to also remember that you can never say you know it all. It is up to you to make opportunities happen. Your future is in your own hands" she said.
Dr Blessing Karumbidza was the final speaker of the day. He is currently the Senior Associate at Jonoka Development Research, Training, Environment and Events Management. " Africa is known for ubuntu, so students, you are in a position to play your part in attributing to the development of the society," he said.
DUT Vice-Chancellor and Principal Professor Ahmed Bawa also congratulated the students for their outstanding achievements and for demonstrating over a suspended period of time, sustained studying. He also gave thanks to the parents for their role they played in making their children go through this 'right of passage'.
He also spoke about new infrasture projects, estimated to cost around R600 billion, that are on the cards for DUT between 2012 and 2015. He said that these projects will allow the institution to take up student enrolment from 26 000 to 31 000 within the next five years. He also mentioned the establishment of an Aviation Academy at DUT. He also encouraged students to return to the University to and embark on further studies towards Master's and Doctoral degrees and to be active in alumni relations so that they can remain involved in the University.
– Waheeda Peters
Pictured: Prof Bawa, Ina Cronje and Chancellor Vuka Shabalala. Also pictured is Shiarn Dukhanti (ND: Civil Engineering) while being congratulated by his mother Rani and Shimona Dukhanti.