For the Durban University of Technology(DUT) alumnus Andile Sikhakhane ambition and passion is what has made his photography company, Uthasho Photography Pty Ltd grow from strength to strength.
The 29-year-old Sikhakhane who has just completed his Masters degree in Management Sciences: specialising in Business Information Administration at DUT, strongly believes that without dedication, love for people and the creativity associated with photography his business will not be where it is today. Born in Ulundi, North of KwaZulu-Natal, Sikhakhane has seen a gap in the photography industry around Durban and Johannesburg and pursued it. "My journey in Durban was first a bit of a challenge when I moved from Ulundi to pursue my studies at DUT. I was very observant of my surroundings, and that is how I saw a gap in the industry and started networking and researching on where the opening was in the 'world' of creatives in KwaZulu-Natal. From there, I discovered that Uthasho could be born and by the time I had graduated for my undergraduate qualification in Office Management Technology, I knew that if I could not secure a job, I would pursue being an entrepreneur," he said.
He is currently a Director for three companies but his primary focus has mostly been on Uthasho Photography which he believes is the leading black-owned photography company in wedding, events and corporate photoshoots.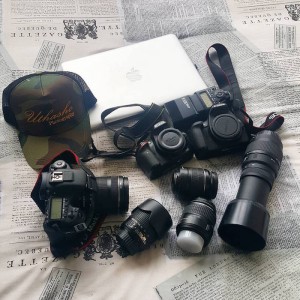 Sikhakhane boasts vast experience as an Office Manager from his days as an employee and has spent most of his years in local government prior to starting his own business. During his student days, he was a House Committee Finance Officer at Alpine student residence. He has also worked as a driver and Office Administrator at the KwaZulu-Natal Legislature, however these were contract positions and when his contract expired, he found himself unemployed and that was when he had to revisit his idea from his student days to become an entrepreneur.
"When I started Uthasho Photography Pty Ltd, I used a camera that was given to me as a birthday present. I would take pictures of my friends and family gatherings. People kept complimenting my work and some would pay for their pictures, that motivated me to make a living out of my hobby," explains the self-taught photographer.
In his current journey, Sikhakhane is inspired by producing authentic images, capturing the true nature of his subjects, as well as getting to learn from the different people he gets to meet every day at Uthasho Photography.
"Pictures are lasting they are a window to really see how a person looks, their personality, their emotions and giving someone a great image of themselves makes me thrilled. Beautiful pictures do not just carry memories but they bring so much joy to their owners and that is the best part of my job," he said.
The advice that he would give to students who want to become entrepreneurs is that there are no shortcuts in life, especially in the world of work. "Life is not a walk in the park but it can be great. It all depends on how you understand not only yourself but your path. Completing your studies and exploring your talents are very important. Explore entrepreneurship and create job opportunities for your peers and give back to your community," he said.
Pictured: Andile Skhakhane
Nomkhuleko Thutshini