Durban University of Technology (DUT) Alumnus Gordon Murray claims the upcoming Gordon Murray Automotive T.50 supercar will feature the "most advanced and most effective aerodynamics ever seen on a road car".
The former student and recipient of an Honourary Doctorate at DUT, developed his first home-built race car in the late 1960's in his hometown, Durban and went on to become an international automobile designer for the prestigious McLaren International.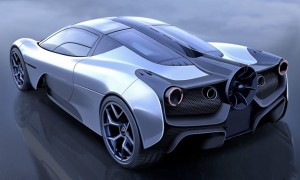 Murray is best known as the man behind the Mclaren Fl, the powerhouse supercar that came out of the original Mclaren Cars start-up in 1991. Before then, he was the Mclaren racing team's technical director and spearheaded the development of both the 1987 Mclaren MP4/3 and MP4/4. The latter propelled Aryton Senna to his first Formula championship win and from then until 1991, Mclaren took home four consecutive Driver's and Constructor's championship titles. In the 1988 Fl season, a Mclaren racer won every race except the Italian Grand Prix.
Today, Murray runs Gordon Murray Design and the newly established Gordon Murray Automotive. He also introduced GMD's iStream construction to automakers; the first car to benefit from the Fl derived engineering practice will be the reborn TVR Griffith.
And now his company has partnered with the Racing Point Formula One Team to "further develop and test" the aerodynamics of the rear-driven, three-seat T.50.
Although the T.50 (which will be limited to 100 units) will be fully revealed only in May 2020, the firm has now released the first official image, which shows the vehicle will employ a 400 mm ground-effect fan at the rear.
Gordon Murray Automotive says this is part of a "unique airflow management system" and teams up with active underbody aerodynamics and dynamic rear aerofoils to achieve "considerably more aerodynamic performance and control than a conventional ground-effect supercar, contributing to an unrivalled driving experience".
The T.50 will feature six aero modes that optimise the car for different scenarios to "balance traction and outright performance". The company says the most extreme setting (Vmax Mode) will combine "motorsport slipstream technology, extra power from a 48 V integrated starter-generator, and ram induction" to boost output to more than 520 kW.
With a claimed weight of just 980 kg, the firm promises the T.50 will deliver the "purest, most driver-focused performance and dynamics of any road car". In addition, the car's bespoke Cosworth 4,0-litre V12 will be the "highest-revving road car engine ever made", capable of spinning to a heady 12 100 r/min.
Boasting a full carbon-fibre monocoque, the T.50 will measure 4 349 mm long, 1 850 mm wide and 1 152 mm tall, with a wheelbase of 2 700 mm.
Pictured: Gordon Murray
Pictured: The T.50
Copy: https://www.carmag.co.za/news/gordon-murrays-mclaren-f1-successor-most-effective-road-car-aero-ever/