Durban University of Technology (DUT) hosted the Code Like A Girl Closing Ceremony to bid farewell to the 300 young girls from the deep rural schools in KwaZulu-Natal who were part of a five-day Coding and Robotics training at DUT's Ritson Campus.
This ceremony was held at DUT's Ritson Hall on Friday, 11 December 2020, to sign off the training that commenced on Monday, 7 December 2020. The 2020 Code Like A Girl programme is a joint initiative between DUT, KwaZulu-Natal (KZN) Department of Education and Centre for the Advancement of Science and Mathematics Education (CASME) to help the disadvantaged young girls in KZN to acquire skills in coding and robotics. The programme also aims to help these girls to one day thrive as Science, Technology, Engineering and Mathematics (STEM) entrepreneurs and executives.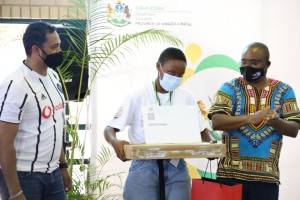 Eleven of the 300 girls were honoured and received prizes for excellently designing websites and remarkably conveying the 11 selected local businesses from their areas. Toping them all was Aphiwe Thusi who took home a laptop and a robot.
One of the tutor's, a second year IT student at DUT, Lethokuhle Shandu thanked the girls for being part of the programme and for following all the instructions that they were given.
She began her speech with her favourite quote from Facebook Founder, Mark Zuckerberg saying that someone is better off trying something and having not work and learning from that than not doing anything at all.
"I for one would rather have come, seen and not conquer in some respects than not being productive at all. Each and every one of you ladies deserve to be here, as well taking full advantage of all the opportunities at your fingertips. This week has been one of awesome teaching and learning experience. It all comes down to opportunity, we live in an era of opportunities and ability to solve problems with technology beyond our wildest imagination. The ability to connect and empower the world in ways that our parents never dreamt off," said Shandu.
She said they taught the girls, HTML, Cascading Style Sheets (CSS) and Java Script, and she reminded the girls that they all have the responsibility to shape the future that they want to live in.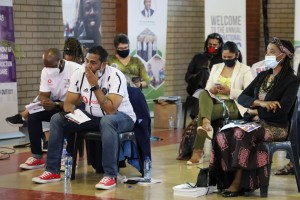 Speaking on the programme's impact on DUT was the University's Deputy Vice-Chancellor: Research, Innovation and Engagement, Professor Sibusiso Moyo who thanked the DUT tutors for making this programme a success.
"For our students, looking at the strategy we have, we also talk about having other skills apart from just their academic skills. It does help our students, to find out the cultural diversity and how different people respond to things, we all learn the different way. Nothing happens without doing anything, you have to have a plan. There are many free courses online that you can enrol on as a student to do coding, I want to encourage you to use the phone you have. As you go back, focus on your career in terms of planning, for those of you who want to do engineering remember your maths and science marks have to be good," said Prof Moyo.
She thanked the teachers from the girls' schools for their support and all the teams who ensured that the training runs smoothly.
Vodacom KZN Managing Executive, Chris Lazarus said they started off wanting to train 900 girls but due to the outbreak of COVID-19 it was not possible.
"What you have done this week is the foundation and basics of what the entire world is operating on. This code is in everything you do. You may not realise that all these applications that you are opening, Facebook, LinkedIn, Google, is built on code. Today you don't have to limit yourself anymore just by the traditional jobs that our parents knew and we heard about it from our family, friends and even the teachers. You now have the opportunity to think wider, most of the jobs don't even have names yet, because we haven't thought of what is possible," said Lazarus.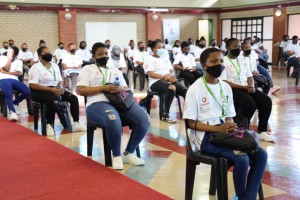 Even though the KZN Education MEC, Kwazi Mshengu was not available for the closing ceremony but he had previously pledged his support for the programme during the launch and the opening ceremony. He had stated that this is a very important programme that gives exposure to young girls who are in deep rural areas, who are not exposed to major things that are happening around the society.
Code Like A Girl 2020 Alumna, Andiswa Ndlovu from Port Shepstone High School, said she was grateful for the opportunity given to her and the highlight of her training was being able to create her own website.
She said with Fourth Industrial Revolution (4IR) knocking on South Africa's doors, women empowerment programmes such as Code Like A Girl are of utmost importance because they equip ladies with the necessary skills to become pioneers in primarily male dominated fields. She urged the girls to utilise these opportunities to the fullest.
Phathisizwe Mahlabela from CASME said the World Economic Forum Future of Work Report published on 20 October 2020, estimates that by 2025, 80 million jobs may be displaced by a shift of labour between humans and machines. He said it states that even more jobs, 97 million may emerge that is more adapted to the new division of labour between humans and machines. He further said that whether you are on the side of the displaced or emerging jobs will depend on the skills that you have.
All the girls left DUT in high spirits after Vodacom gave each of them a sim-card, which will be loaded with 250MB data every month for a period of 12 months.
Pictured: Code Like A Girl Alumna, Andiswa Ndlovu from Port Shepstone High School.
Pic 2: Winner of the 2020 Code Like A Girl challenge, Aphiwe Thusi with Vodacom's KZN Managing Executive Chris Lazarus and KZN Department of Education official, Dr Mhlane.
Pic 3: Some of the 300 girls who were part of the Code Like A Girl programme at DUT.
Pic4: Vodacom's KZN Managing Executive, Chris Lazarus and DUT's Deputy Vice-Chancellor: Research, Innovation and Engagement, Professor Sibusiso Moyo amongst the dignitaries who attended the Code Like A Girl Closing Ceremony.
Simangele Zuma