The Faculty of Arts and Design at the Durban University of Technology (DUT) bestowed an honorary Doctor of Philosophy in Visual and Performing Arts to the internationally acclaimed South African novelist and playwright, Professor Zanemvula Kizito Gatyeni Mda, popularly known as "Zakes Mda." The honorary degree was conferred during DUT's 2021 Autumn Graduation ceremony which was held online today, 27 May 2021 at 12:00, midday. The video of the virtual graduation ceremony is available on the DUT website: www.dut.ac.za and on the DUT YouTube channel: DutCampusTv.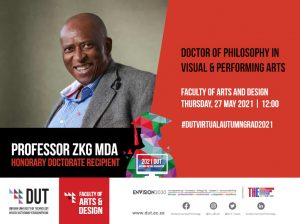 The awarding of the honorary degree is in recognition of Prof Mda's exceptional contribution and accomplishment in the world of Arts, particularly in literature and various other scholarly works.
Delivering the opening remarks was DUT's Director of Advancement and Alumni Relations, Mr Zwakele Ngubane who highlighted that DUT is proud that the distinguished and legendary author Prof Mda has accepted the nomination for an Honorary Doctor of Philosophy in Visual and Performing Arts in the Faculty of Arts and Design as DUT. Furthermore, that DUT is very pleased to be associated with such a literary giant and would like to welcome Prof Mda to the DUT family.
The ceremony was officially constituted by the Chancellor of DUT, Ms Nonkululeko Nyembezi who also conferred the honorary doctorate to Prof Mda. Prof Brian Pearce, Acting Executive Dean of the Faculty of Arts and Design gave a brief background on Prof Mda. He stated that Prof Mda was born in 1948 in Herschel, Eastern Cape, however he currently resides in Athens, Ohio, where he has an arts studio.
"Prof Mda is a teacher, painter, filmmaker, musician, poet, novelist, former Pan Africanist Congress member and recipient of the Order of Ikamanga, in Silver, in 2014, for his excellent contribution in the field of literature. Prof Mda completed his PhD at the University of Cape Town (UCT). He also holds the MFA in Theatre and a MA in Telecommunications from Ohio University. He is an Adjunct Professor in Creative Writing at Johns Hopkins University in Baltimore, Professor Emeritus of English at Ohio University, and guest lecturer in Playwriting at Towson University for 2021 and 2022," said Prof Pearce.
Prof Pearce echoed that Prof Mda's illustrious career has distinguished him amongst his peers. He stated that his work is an inspiration to many institutions all over the world and to everyone who has worked with him. Prof Pearce added that DUT students shall draw much inspiration from his life as a literary giant, activist and academic.
In his acceptance speech the elated Prof Mda said he is highly honoured by the honorary doctorate and grateful to DUT for it. He said he would have loved to have been at DUT in person as he has fond memories of the time he spent there three years ago when the University invited him to deliver a lecture on Ancient African Civilisations. Prof Mda stated that he had wonderful interactions with academics and received enthusiastic feedback from students.
"I am pleased to announce that following from that enthusiastic reception of DUT students, I decided to expand that lecture into a book which will be launched in July this year. The objective is to explore that history of Africa, that African students are never taught. Even here in Africa, the history that they are taught begins with the coming of the white men, before that Africa is not supposed to have had any history. With this work I am to correct that. I believe that any anti-colonial projects and decolonisation process must begin by decentralising whiteness. It is important for a black child to internalise a new mindset that we have not always been slaves. Our history does not begin with slavery and colonisation," said Prof Mda.
In his message to the DUT students, Prof Mda said his generation of resistance won them (students) the freedom, however they also became the generation of grifters, nepotism and patronage of utter corruption. He said it is his generation that is busy destroying South Africa but said he hope the students' generation will liberate this country from his generation.
"Young people have taken their lives into their own hands and are kicking open doors that were previously closed to us, without waiting from any Mana from government heaven. They are active participants in international markets and arenas at the highest level. Young men and women of action, who are innovators. All of them earn a lot of foreign exchange for South Africa. Go join their ranks, you will be alright, I know you will be alright," he said.
Today, DUT honoured 2625 graduands consisting of a total number of 585 graduands from the Faculty of Arts and Design, 1260 from the Faculty of Engineering and the Built Environment and 780 graduands from the Faculty of Health Sciences. Tomorrow, 5774 graduands from the Faculty of Management Sciences, Faculty of Applied Sciences and Faculty of Accounting and Informatics will be honoured in the second ceremony of DUT's Autumn Graduation 2021.
Pictured: Prof Zakes Mda
Picture taken from UCT website.
Simangele Zuma