The Durban University of Technology Midlands Entrepreneurship Centre and Student Desk under the office of DVC: RIE Professor Sibusiso Moyo held a two-day personal mastery development training for student-preneurs to launch its first post-incubation programme.
This practical and impactful training was aimed at developing and equipping student-preneurs who are exiting the incubation programme with personal development skills that will assist them in being well-rounded and adaptable entrepreneurs. Ntokozo Magwaza: Industrial Psychologist facilitated the workshop along with Business Leadership expert: Langa Nzuza.
This training covered a variety of topics such as disruptive entrepreneurial potential, self-awareness, emotional intelligence, professional development plan and personal alignment.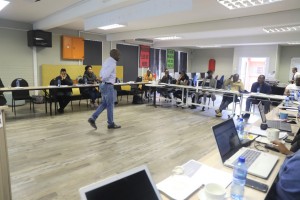 The Centre incubation programme has four phases that include ideation, pre-incubation, incubation and post-incubation stages. Student-preneurs who were graduating from the incubation to the post-incubation stage have undergone through all the three stages respectively and have received tailor-made training on each stage. This is the first group to qualify for the post-incubation phase ever since the establishment and formal launch of the Centre in 2019.
"It is critical that the students and young people in business be capacitated with self-development tools and skills, to be confident and successful in business. In life, we must first influence ourselves before we could even influence consumers of our products" said Nontokozo Ngcobo: Midlands Entrepreneurship Centre Manager when emphasizing the importance of this training. She further encouraged the students to invest time and energy in developing their visions. The University has provided platforms like the Entrepreneurship Centre and other departments to further accelerate DUT students into being adaptive and well-rounded.
When Nzuza was emphasizing the significance of having a professional development plan to entrepreneurs, he stated that reading should form part of their plans as it contributes immensely to the success of the business. "It is through reading that we shall grow as entrepreneurs. If you are an entrepreneur, you are a leader. Leaders are readers; it is through reading that they grow. Reading should be a lifestyle and practice. Your business can only grow to the extent to which you grow. If you miss out on research, you miss an opportunity of having a great future for your business" said Nzuza.
Magwaza dived into the aspect of emotional intelligence, he explained the importance of responsibility in entrepreneurship, "we are responsible for the life decisions we make and the conclusions we draw from our experiences". Magwaza further highlighted the importance of emotional intelligence, understanding your emotions as an individual and being able to manage them. He quoted Warren Benis saying "Emotional intelligence, more than any other factor, more than IQ or expertise, accounts for 85% to 90% at work. IQ is a threshold competence, you need it, but it doesn't make you a star."
The facilitator further expressed the effects of emotional intelligence on performance, highlighting that people with high emotional intelligence are more likely to produce positive results. He also stressed that operational environments and atmospheres are a contributing factor to people's work ethic, mood and productiveness.
To conclude the programme students participated in an emotional intelligence exercise, where they reflected on their feelings and why they find it difficult to express their emotions.
Students-preneurs shared words of gratitude to the Entrepreneurship Centre and the facilitators "We have learnt a lot, especially about separating our personal life from our business, and the significance of developing a personality as an entrepreneur. We appreciate both the sessions, they were very informative, and we would like to attend more sessions of this nature" said Nkanyiso Dlamini, the founder of Ruth Concepts and Interior Design.
Lwazi Kunene, the co-founder of Raw Breed, deemed this experience life-changing." This is one of the best training I have ever attended. It challenged my personality in relations to business, said Kunene.
Pictured: Student-preneurs attending the training and Mr Magwaza, the facilitator
: Student-preneurs, Business Advisors, Mr Nzuza, Nontokozo Ngcobo and Mr Magwaza
Sindisiwe Ndlovu