The Durban University of Technology (DUT) joined Bongs SA, a fitness club located at Umlazi Township, supported by Umlazi Sports and Fitness Academy in conducting a #Asibavikele Awareness Campaign, aimed at raising donations for face masks to give to learners in under-resourced schools.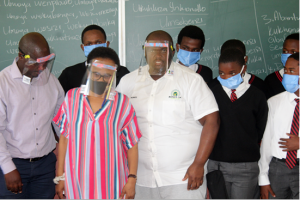 Through a call for donations to corporates and local businesses, the campaign was able to receive 2500 face masks to give to learners and 120 face shields to give to teachers. The face shields were donated by DUT through its Luban workshop that is run by Ebrahim Ismail.
The donations were distributed to six schools located in the Durban South areas between the 6 and 7 October 2020. The schools include Zwelethu Secondary School, Nkonkoni Primary School, and Umlazi Commercial High School, to name a few.
During the school visits, Bonginkosi Gwala, Chairman of the Bongs SA Fitness Club said that there is a need to support learners with such protective equipment during this time of the COVID-19 pandemic so that they can focus their energy on the content of their subjects. "Schools in these communities are in dire need of support to curb the spread of the virus," he said.
Dr Myalo Sabela, a lecturer in the DUT's Chemistry Department represented DUT during the drop-offs. He said that PPE's are the important tool in limiting the spread of the coronavirus. "All leaners need to be protected and supported as they are the future of this beautiful nation," he said.
Phumzile Xulu, the Community Engagement Practitioner working under the office of the DVC for Research, Innovation, and Engagegemnt applauded the initiave and said that she was very pleased at the level DUT is supporting communities with PPE's diring the COVID-19 pandemic. 'This is the level of commitment we want see from an institution like DUT, to reach out to communities in time of great need," she said.
Picture: Teachers and learners receiving donations of face shields and masks.
Phumzile Xulu