The Durban University of Technology's (DUT's) rugby team, DUT Rhinos "Obhejane" is ready to face the Walter Sisulu University (WSU) in South Africa's biggest varsity rugby tournament, the FNB Varsity Shield 2021.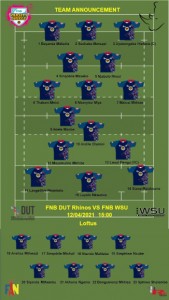 DUT Rhinos debut match against WSU will be today, Monday, 12 April 2021 in a secure-bio bubble at the Loftus Versfeld Stadium at 15h00. This match will be broadcast live on SuperSportTV (DStv channel 211). This will be their first game of six confirmed matches and it will also be the opening game of the tournament.
The team is excited as it has always been its dream since its inception in 2016 to compete in the FNB Varsity Shield. DUT gave the team a proper send off on Sunday, 11 April 2021, wishing them well as they left for Tshwane.
The send-off followed the Blazer Awarding ceremony held on Wednesday, 7 April 2021 at the University, where strict COVID-19 protocols were observed. Head of DUT Sport Administration department, Bongani Yengwa awarded DUT Blazers to the team's technical staff members and the team's captain. At the event the announcement of the 1st bio-bubble squad that left for Tshwane was made.
"A great thank you to DUT Senior Management, our rugby sport officer Mr Stanley Govender and his assistant/administrator Mr Nkosi Dlungwane, all staff members in the Sport Administration and other departments that we work with and lastly the players who be actually on field after having gone through the past weeks of preparation for the competition. I would like to wish them all the best of luck especially on their opening game. They must just go out there and do their best. The entire DUT community is behind you," said Yengwa.
DUT Rugby Director, Matthew Russell who is also representing FAN, one of the team's sponsors said they are proud that the team has made such progress in just four years, to be even approached by the Varsity Shield to compete.
DUT RHINOS' SIX GAMES TO LOOK OUT FOR:
| | | | | |
| --- | --- | --- | --- | --- |
| 12 April 2021 | FNB DUT | vs | FNB WSU | 15:00 |
| 18 April 2021 | FNB DUT | vs | FNB CPUT | 15:00 |
| 20 April 2021 | FNB DUT | vs | FNB UKZN | 19:00 |
| 2 May 2021 | FNB DUT | vs | FNB TUT | 15:00 |
| 4 May 2021 | FNB DUT | vs | FNB UFH | 15:00 |
| 7 May 2021 | FNB DUT | vs | FNB Rhodes | 19:00 |
.
The FNB Varsity Shield final will be held on 9 May 2021 at 19h00 between the two teams who will be position 1 and 2 on the Log. Teams not involved in the final will head back home on 7 May 2021. All the games will be broadcast on SuperSport.
During the tournament, Russell urged the DUT community to get behind the boys by posting shout out videos of support on social media and on the tournament's social media pages. He said the team would really appreciate it.
Pictured: DUT Rhinos (picture taken pre-covid) and their line up for today's match against WSU.
Simangele Zuma