In commemoration of Youth Month, the KwaZulu-Natal MEC for Economic Development, Tourism and Environmental Affairs, Mr Ravi Pillay hosted a conversation with the Youth in Business at the Durban University of Technology's (DUT's) Indumiso Campus, in Pietermaritzburg on Tuesday, 08 June 2021.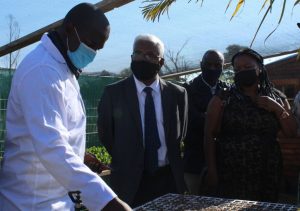 The esteemed guests included the KZN EDTEA's executive team, Deputy Vice-Chancellor: Research, Innovation and Engagement at DUT, Professor Sibusiso Moyo, DUT Technology, Transfer and Innovation Director, Prof Keolebogile Motaung, Msunduzi Municipality Mayor, Mr Mzimkhulu Thebolla, government officials, delegations from the various organisations representing youth in business namely; Progressive Youth in Business, Mzansi Youth in Business, Youth in Business SA and Youth in Action.
Delivering the welcoming address was Dr Joe Molete, DUT Midlands Campus Director. Dr Molete expressed his gratitude to MEC Pillay for availing himself to engage with the youth in business. For the first session, the programme director was Ms Nontokozo Ngcobo, DUT Midlands Entrepreneurship Centre and Student Desk whom at first led the team who took MEC Pillay and the dignitaries on a tour around the centre and also at DUT's Agri-Hub. The second session was facilitated by the Director for Youth Economic Empowerment at KZN EDTEA, Mr Thami Zondi, who later introduced MEC Pillay.
In his speech, Pillay said it gave him great pleasure to get this chance to engage with young entrepreneurs. He added that the engagement is the first of four engagements he will be having with young people in different parts of the province. Similar engagements have been planned for Ulundi, eThekwini and Margate with the latter being an engagement with unemployed graduates.
"We do this not because it is Youth Month and not because we want to tick boxes. We do it because we really value the voice of young people including those in business and the unemployed. In all different phases of our history, it is the young people who have always led the charge in confronting whatever challenges we were confronted with. It was the youth led by Anton Lembede and Nelson Mandela in in the mid1940s which brought militancy to the struggle against apartheid. It was the young Steven Biko, who died at the young age of 30, who revolutionised the way we think about ourselves as Black people and it was the class of 1976 that sacrificed their lives as they rejected a system of education that was meant to further entrench apartheid," said Pillay.
He highlighted that this year's Youth Month theme is: "The Year of Charlotte Maxeke: Growing Youth Employment for an Inclusive and Transformed Society".
"We are confronted with the COVID-19 pandemic which has destroyed economies across the globe. The pandemic has led to a rise in unemployment and at the same time laid bare the inequalities that persist in our society. We therefore believe that during these trying times, the youth must be at the forefront of our fight against COVID-19 and should be allowed to inject new energy and ideas into our economic recovery efforts," said Pillay.
He also thanked DUT for having partnered with his department on this programme which he believes is a practical demonstration of what can be achieved through social compacts.
Speaking about DUT's partnership with EDTEA, DVC: RIE Prof Moyo said DUT does not offer an Agricultural course as a component where one can get a degree but offer an opportunity for students from any discipline to learn how to start an Agri-business through the Entrepreneurial Centre.
"Remember food security, wherever you are, no matter how bad things become, people always need to eat. If you look at opportunities where you can actually make money but also help the community, I think the agri-sector is one area which is quiet instrumental. Here, in the Midlands we have a pilot where we have students who are able to grow crops such as cucumber, spinach and tomatoes. We have been able to prove that you can do this on a small scale and the spread it up. We have now selected a group of 15 students to work with, who are doing the theoretical work and in the ICT and Agri-business sector they will have opportunities after they do that theory," said Prof Moyo.
She advised the youth to also learn other languages despite local languages to help them trade beyond the borders. Furthermore, she added that DUT is trying to create a space where students can come and learn a skill that they can use to set up a business.
Several representatives from organisations representing youth in business presented their organisations to Pillay, with the aim to seek a partnership with EDTEA and funding for their projects. Pillay was pleased with the presentations and commended the youth for their innovative ideas and their interests in the business sector.
Pictured: DUT's Mr Duke Ngcobo, Ms Nontokozo Ngcobo, KZN EDTEA MEC, Mr Ravi Pillay and DVC: RIE Prof Sibusiso Moyo.
Pictured: DUT student, Mondli Dlamini engage with KZN EDTEA MEC, Mr Ravi Pillay and Midlands Entrepreneurial Centre and Student Desk Manager, Ms Nontokozo Ngcobo at DUT's Agri-hub.
Simangele Zuma