The Durban University of Technology (DUT) Communications team's, Waheeda Peters spoke to DUT's third-year Analytical Chemistry student, Fanelesibonge Ndlovu.
The charismatic young lad from KwaNoshungu in Northern KwaZulu-Natal was a guest speaker at the Virtual Enactus World Cup 2020, which took place from Tuesday, 8 to Friday, 11 September 2020.
This event was supposed to be in Netherlands, Utrecht but because of COVID-19 it was held virtually.
Enactus is the world's largest experiential platform dedicated to developing the next generation of entrepreneurial leaders and social innovators who create a better world. There were72 000 virtual attendees from around the globe during this year's virtual Enactus World Cup, which showcased, advanced and celebrated the work of Enactus nextgen leaders creating a better, more sustainable world.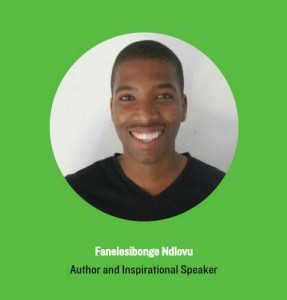 Ndlovu, who delivered his talk last Wednesday (9 September 2020), said speaking on an online platform with giants from around the world was really awe-inspiring for him.
"It was a humbling experience to share the platform with academics with their PhDs, executives and business people. I always wanted to be an international speaker and I had a five to 10-year plan on how I will become an international speaker and it happened so quickly this year. I can clearly see I am going forward with my public speaking journey," he said excitedly.
Ndlovu added that his session was all about the power of LinkedIn. He spoke specifically about know, like and trust. He said that people can easily see one's emotions and expressions.
"It is the number one work platform and an amazing one. People who are viewing your profile can even trust you because they see that you are a human being and they can relate with you on a higher level than just with a simple picture post. What is very interesting about LinkedIn is that you can clearly see people who have watched you, viewed your profile, and your videos. Sometimes I get a lot of people who are watching my videos who are CEOs, and General Managers of certain companies," he said.
Furthermore, Ndlovu highlighted on how to use LinkedIn and optimise one's profile to build one's brand or to attract recruiters. He spoke about the best practices of LinkedIn like tagging for one's post to get more reach. "LinkedIn video has elevated my brand because LinkedIn video receives three times more engagement than a post or photo," he said.
Ndlovu also spoke about how he has built his brand and following on LinkedIn. The session also included Shawn Mealy, Senior Manager, Global accounts from LinkedIn and Jennifer Pfister, who is a One Young World ambassador. "This will be a motivation for all young people who come from rural areas and difficult backgrounds. More than 60000 people from more than 37 countries were watching this livestream. Which made my dream of becoming an international speaker come true," he said excitedly.
For Ndlovu, his greatest dream has always been of becoming an author and international speaker. In 2018 he published his book titled: God lacks nothing.
Last year, 2019, he joined the DUT team that represented Enactus South Africa in USA, San Jose, California, to compete with other Enactus teams from around the world. "I made friends from all around the world. Like friends from the Philippines, Ireland, UK, Kazakhstan, Azerbaijan, USA, and Canada. This year 2020, I spoke at the Enactus World Cup 2020. I was part of speakers who are also next gen leaders," he said.
Explaining why such platforms such as Enactus are vital for himself and students of DUT, Ndlovu said that the platform is so crucial because they give a person a different experience, something that cannot be obtained from their course of study. "They give you a real life and corporate experience. For instance, joining Enactus taught me to think more of my community and seek ways to develop them. It taught me about being a selfless leader and creating a better future for everyone. It made me see the possibilities of achieving my dreams in an ethical way," said Ndlovu.
He advises and encourages DUT students to volunteer more of their time to participate in events as this will make them meet more wonderful people and also create good relationships with people which will help in their growth in the future.
He also indicated that DUT needs to also keep on supporting organisations within the community of DUT and also support those students who are doing well in different fields such as sports, entrepreneurship, academics, etc. "I would also like to thank the DUT for the opportunity they presented me last year when they supported the Enactus DUT trip. It is that opportunity that led me to become an international speaker," he said.
Pictured: Fanelesibonge Ndlovu
Waheeda Peters