"I am not just a girl from the farms, I am the chosen one. I am chosen to change every young girl's world out there who is doubting herself," said Hlabisa.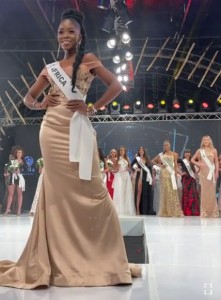 Durban University of Technology's (DUT's) Zabelo Hlabisa (27) never falters to make DUT and others proud, this time she went as far as making the African continent proud with her achievement. She was representing Africa in a competition Top Model of the World 2021, clinching the top 15th place in the competition which took place in Egypt in early March 2021.
"This was not the first big competition I have participated in, it felt so great. The fact that I was representing the whole continent meant something. I am not just a girl from farms but I am the chosen one. I am a mirror to that African girl who is doubting herself and doesn't believe in dreaming big," said Hlabisa.
The former Miss DUT (2018) is presently doing her Master's degree in Management Sciences at DUT. Bedsides modelling, the stunner is also a practicing, fully trained traditional healer and entrepreneur. Hlabisa was raised in Newcastle but her home is in eNquthu.
Hlabisa happily shares on her social media platforms of her journey as a traditional healer, this year, 2021. "I m a lady with many talents and I have travelled the world because of modelling. Everywhere I go I just heal someone unknowingly, so, it happens naturally. I am a model when I am on stage or in front of the camera so it's very easy to do both," she said.
"I believe I am a going to be the greatest healer in the world as I have always wanted to have the power to heal. Not only in sickness but to heal crime, poverty and all other negative things that are happening in this world," she added.
Hlabisa says she is grateful to her family for the unfaltering support in everything that she ventures into as well as her amazing friend Ntombenhle Nzama, who plays a big role in steering her to achieve greater heights in her career.
Imparting her advice to her followers on all her social media platforms, Hlabisa said: "Life is too short, grab every opportunity that comes before you. Let the streets talk but never let the streets dictate what you should do for yourself. Most importantly, respect the universe and its people."
Pictured: Zabelo Hlabisa
Nikiwe Sukazi