"Launching my book was my proudest moment, it felt so good to accomplish such a task. God knows there were times when I felt discouraged and was tempted to give up, but it was like a baby growing inside me that just had to be born, though the gestation period for books is a lot longer than it is for babies," chuckled the elated Nomali Zondi.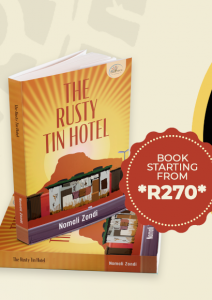 Zondi is from Inanda, KwaZulu-Natal. She is a mother and a writer with a passion for telling stories about the lives of her people, especially black women who have had to struggle against the tide to find their place in the sun. She has a background in journalism, and is currently a second-year Bachelor of Applied Arts in Screen Arts and Technology student, who recently launched her first novel called The Rusty Tin Hotel.
She also received a first prize award for her short story titled: Rebellion, at the DUT's Writing Centre competition on the subject of the coronavirus, (#Covid19 #TheNewNormal).
Giving a synopsis of the book, Zondi said it focuses on the story of five Zulu girls from very different backgrounds and their journey into womanhood.
"They belong to the so-called 'born free' generation and have no personal experience of apartheid, though they live under the long shadow it cast in the years since the first democratic elections in South Africa. They link up and become friends when they find themselves as boarders in the famous Inanda Seminary school. To succeed, they must contend and weather a cruel gauntlet of obstacles and setbacks that could crush anyone's ambition. Against this background, their way of life unfolds for each: their struggles to break free from the shackles that enslave them, the careers they choose, and the enduring friendship that binds and sustains them," she said.
Zondi relayed that she has always been a writer since she was a child. Writing has always been her place of expressing herself without fear of judgement.
"I remember watching a telenovela as a child and being in awe of a character named Paul Mashaba who was writing a book. It was at that time that I decided I was going to write a book someday," she said.
As an author, she did express that she had some challenges whilst writing her novel.
"The hardest challenge like most writers would tell you, was having to sit down every day and write something because there were times where I just ran out of ideas. And to be honest, I am not very good at that disciplined side of things and sometimes did not write a word for weeks on end, but a feeling of guilt at neglecting my vocation always drove me back to confront the empty page," she said.
Zondi expressed that she had immense support from her department, and DUT's Dr Cary Burnett gave her positive feedback after reading the synopsis of the book, also boosting her confidence in the book.
"The Head of Department (HOD), Professor Jean Philippe Wade has also been extremely supportive and with all this support I was bound to push forward and reach the goal of publishing. Winning the Writing Centre's competition validated my need to get the book out there," she said.
DUT's Andrea Alcock, from the Writing Centre, also expressed her jubilation on Zondi's release of her new book.
"I have been so inspired by Zondi's drive and passion for her writing. She has understood early on in life how to work hard and to take things forward with an entrepreneurial spirit. I trust that her writing career grows and that she continues to benefit from this important exposure," she said.
Besides DUT, her family have been her source of strength for her. "My family is very proud, especially my mom who has tried to learn how to read so that she can read the book for herself without anyone doing it for her and interpreting it," she said proudly.
Zondi also spoke on the COVID-19 pandemic and its effects it had on her launch, saying that COVID-19 has been horrible for everyone, but it has given her a chance to write more. It has also been a time for her to reflect and document what has been happening in society during her lifetime and preserve it for the history books.
Zondi is working on a collection of short stories, which is in the pipeline with the working title: Journey of a Homeless Writer.
She also shared that in five years' time she would like to use her qualification to shoot a movie that she has written the script for.
"There is also a short film that I have worked on where I have visited the different places which are central in the book: this is where I talk about the place and read an extract from the book," she said.
To view the film, go to: https://www.youtube.com/watch?v=3PZr0ht9qRY.
Pictured: Author, Nomali Zondi.
Pictured: Zondi's book, The Rusty Tin Hotel.
Waheeda Peters