The Faculty of Arts and Design's Extended Curriculum Programme (ECP) students wooed onlookers with their charming designs made from recycled material at their impromptu fashion show hosted at City Campus' Courtyard last week Tuesday, 20 August 2019.
This year, the annual fashion show which is always a spectacle saw 31 ECP students strutting their stuff on the runway to model creations they made from materials such as newspapers, plastic bags, and feathers.
The colourful fashion parade which is always filled with gales of laughter and cheers is an important fixture in the ECP's calendar, and it forms part of the students' continuous assessment.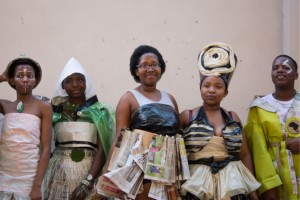 ECP's 3Dimensional lecturer, Karla Nixon said the brief was for students to use recyclable materials and draw inspiration from any heritage from Africa.
Nixon explained that students were given the choice of creating any fashionable piece they wanted without having to spend money. She emphasized that the significance of this project is to teach students about the importance of the environment's recyclability and sustainability.
ECP student, Sibusisiwe Mtshala who created a Xibelani skirt which is traditionally worn by Tsonga women said her creation was inspired by award winning rapper, Sho Madjozi's signature look which often incorporates traditional Tsonga wear with modern pieces.
Another student, Asemahle Mekuto commented that even though the assignment was challenging, she enjoyed the experience of working with recycled materials.
"What was fulfilling about this assignment was knowing that we are looking out for the environment," said Mekuto.
Pictured: ECP Students wearing creations made from recycled materials.
Nondumiso Mchunu