Enactus DUT (Durban University of Technology), commemorated its 11th Anniversary over three-day online celebrations themed: 11 Years of Changing Lives.
This group consists of students, academics and business leaders that make meaningful contribution to improve the lives of the people in their communities. Their celebrations were live on their Facebook page: Enactus Durban University of Technology from Thursday, 15 October 2020 to Saturday, 17 October 2020.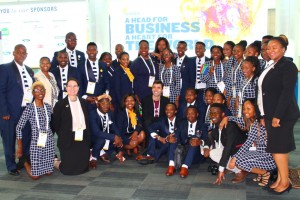 On the first day of the celebration, opening remarks were made by Nomvelo Ngcobo who introduced the host of the first discussion Ntobeko Thiba. Enactus DUT began their celebrations with a webinar on Community Transformation and Entrepreneurship.
The main speaker was Grace Sibanda (24), founder of Women of Heaven Foundation (WOHF), a Non-Profit Organisation focusing on assisting orphans and people in need through skills, entrepreneurship and education.
Speaking about her journey in being an entrepreneur and legal scholar, Sibanda said her journey has been quite interesting.
She said she established the organisation last year, in 2019 after seeing a gap with regards to widows and some of the child headed households.
"We thought it would be great for us to step in and offer different programmes that would better the community. With regards to the legal side of things, I am still studying but I do offer consultations with regards to contract law and advise on ways to start up your own business," said Sibanda.
She stated that people need to understand that if they are self-employed, they are not yet entrepreneurs.
She explained that self-employed people only create jobs for themselves and not the community around them.
Furthermore, Sibanda stated that people need to get into a place where the businesses or programmes that they run are benefiting more people than just one person, in order to achieve the goals that come with entrepreneurship.
"The issue with our poverty-stricken areas in South Africa is the fact that people start businesses only for their own wealth. It is not a business that will be run so well that it provides an income but actually puts bread on the table for a whole lot of families. I am very big on legal compliance. I believe that if a business is legally compliant, it actually opens up opportunities for them not normally accessible to a lot of people. We saw this during the start of COVID-19 lockdown when they said if you want to apply for business relief these are the requirements. Lots of people did not benefit because they did not meet the requirements," said Sibanda.
Mthoko and The Band closed of the opening celebration with their beautiful music.
The day 2 session held on Friday, 16 October 2020, was a discussion on Creating Another 11 Years of Transforming Lives Through Social Entrepreneurship, hosted by Enactus DUT's Marketing and Communications Director, Sondelani Mwandla.
The panelists consisted of: DUT's Deputy Vice-Chancellor: Research, Innovation and Engagement, Professor Sibusiso Moyo, Enactus South Africa CEO, Letitia de Wet, Enactus DUT Faculty Advisor, Lana-Ann Brady, Enactus DUT President, Mthunzi Maphathwana, DUT Midlands Campus Director, Dr Joe Molete, the Director of Advancement and Alumni Relations at DUT, Zwakele Ngubane and others.
Prof Moyo congratulated the group for the 11th year of Enactus, saying it was worth being celebrated since it started in 2009.
"Enactus is one organisation that gives us hope, especially for us in leadership. During lockdown they were continuing to work with the communities and continuing the work to transform lives. That is a really good inspiration because it gives us hope and showed us that we shouldn't be so scared to go out and do things," said Moyo.
She said when she started as the DVC: RIE, she was looking for something that DUT can do to transform lives around entrepreneurship and found Enactus which was based on one faculty at that time but has worked hard to expand and involve more students.
Enactus SA CEO, De Wet said they strive to be the leading student organisation teaching entrepreneurship and success skills through practical hands on experiential learning formats at universities in the country.
She said they recently ventured into TVET colleges where they felt there was a huge gap.
"We need to acknowledge the significant contribution by the DUT Executive Management since 2009. Prof Moyo, the way that you have embraced Enactus and that you continue to support this programme is of real value, especially because we always encourage our students to not only look at the needs of the community but also the university. We got so much interesting research ongoing at all of the institutions and we want them to utilize that so that research can be practically implemented on the campuses as well serve the communities," said de Wet.
She (De Wet) commended the DUT Enactus team for bringing the national cup to the institution in 2018, which was a huge achievement. She said it was the first time that a university of technology won the Enactus National Competition.
The various speakers took turns to congratulate the team and shared ideas on how it can achieve more in the years to come.
The closing celebration was hosted by Busisiwe Magudulela who held a discussion with three entrepreneurs: Andiswa Dlamini, Phumelele Khumalo and Sabelo Madiba who shared their tips on Surviving the New Normal.
The lucky student who won the food voucher competition that formed part of the celebrations was Nontethelelo Biyela.
Pictured: The panelists' that formed part of the day 2 celebration of Enactus DUT's 11th Anniversary
Picture 2: Enactus DUT team
Simangele Zuma