One of the Durban University of Technology's 2030 statement of intent is to have creative, innovative, entrepreneurial and adaptive students to changes in the world. With the advent of COVID-19, students were given the platform to show their resilience and be able to be creative and showcase the abundance of their talent that exists at the Durban University of Technology (DUT).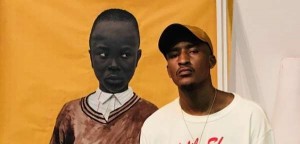 The KZNSA Gallery is currently showcasing works produced by DUT Fine Art and Jewellery Design students enrolled in the third and fourth year of the National Diploma in Fine Art as well as those enrolled in the Advanced Diploma in Fine Art for the 2020 academic programme. The exhibition titled: Complacency-20, is open for viewing by appointment until Sunday, 31 January 2021 until midday.
Speaking more on the exhibition, Fine Art lecturer Joanna Cara Loening Voysey said: "The exhibition serves as a climatic conclusion to the final year of study. It takes place in order to honour the students who are completing their time as Fine Art students and it starts the conversation between young artists and the art world. The exhibition provides the group with the beginning stages of exposure which is most needed and welcomed in the art scene," she said.
She further relayed that there are 22 students taking part in the exhibition; four being Advanced Diploma students and 18 third-year students.
The exhibition artworks consist of students using Acrylic paints, Terracotta clay, Raku clay and cardboard, to name but a few.
Explaining further on the exhibition, Head of Department: Fine Art and Jewellery Design, Dr Chris de Beer said, "While each student deals with their own individual theme through their media of choice varying between painting, printmaking, drawing, ceramics, sculpture, multimedia, etc. what is most striking and admirable about the show is that it demonstrates the resilience of the creative spirit of these young artists and those who guided them up to this point," he stressed.
Voysey indicated that Complacency-20 is the glimmer of hope that even under an unprecedented and deadly pandemic, pursuit of creativity, pursuit of the beautiful still serves as a strong motivation for many to go on. "For the audience, the show is a great opportunity to catch what these young artists have been contemplating and preoccupied with during this very discomforting period of our lives," he said.
One of the students exhibiting at the KZNSA Gallery is Siphesihle Ntsungwana, a third-year Fine Art student at DUT.
He said that this was not his first time exhibiting in such a space, but it was his first time exhibiting as a graduating student.
Explaining his thoughts on being able to showcase his art at the gallery, he expressed it is very exciting.
"Hearing that this exhibition was happening made me feel thrilled because KZNSA Gallery is my favourite gallery here in Durban and I am already a member of the gallery. What I hope to achieve by being part of this exhibition is to showcase the work that I produced in 2020, since it was a very rough year and just prove to myself and to the art industry that I'm ready to be a full-time professional artist," he stressed.
Explaining more about his art and what it symbolises, Ntsungwana said that his work is an exploration of his personal identity, regarding his shift from a rural area in Eastern Cape, Bizana to an urban area in KwaZulu-Natal, and how being in this area had transformed his life, and made him the artist that he is through the influence of mass media and pop culture.
Going forward, he said he hoped to get his own space that is big enough for him to continue with his art practice, create another body of work that is well enough to get him a solo show before the end of this year, 2021.
Mhlengi Shange, also a third-year Fine Art student at DUT, said he was happy to hear that his work would be exhibited in such a big and beautiful space. "Since KZNSA is the leading contemporary art gallery in KwaZulu-Natal, I hope to get more exposure and I also hope that people will engage with my works," he said.
Elaborating more about his art and what it symbolises, Shange said his body of work presents a nostalgic look into his childhood. "Thinking back the way I grew up, I used to battle with self-recrimination yet having the option to acknowledge my past, being fully aware of who I am and what I do. As an artist, I have discovered a manner which I can convey those encounters through my works of arts," he said.
Going forward, he said his plan is to work as a full-time practicing artist and hopefully find a studio. "I see myself exhibiting around the world and having solo shows," he said.
For more information, call 031 277 1705 or visit www.kznsa.co.za.
Pictured1: One of the students exhibiting at the KZNSA Gallery is Siphesihle Ntsungwana, a third-year Fine Art student at DUT.
Pictured2: Ntsungwana's art called Home Sick.
Pictured3: Mhlengi Shange, a third-year Fine Art student at DUT, showcasing his works called Looking for New Friends.
Waheeda Peters