Giving his best in all that he does has caused Durban University of Technology's (DUT's) Catering Management Alumnus, Lindah Majola to excel in his newly established business, the Humble Café.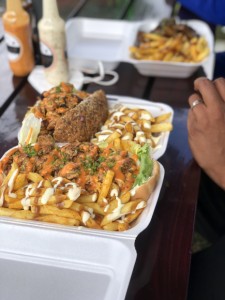 Majola (24) is an aspiring restaurateur and content creator who graduated with Cum Laude for his National Diploma in Catering Management at DUT.
He recently established his own food truck, situated near his home in Bonela, Durban after he felt it was about time, he made his wishes of becoming his own boss come true. At Humble Café they specialise in American style fast food and their speciality dish is Chicken Cheesesteak, which has become popular in their area. They pride themselves with making convenience food that is delightful to the palate.
"After working at the Hilton Hotel in Sandton, Johannesburg, I realised my need to express my creativity. The experience was amazing, but it just did not liberate me. So, I came back to Durban and opened my food truck called Humble Café on the 24th of January 2020," said Majola.
He said from an early age he has always made sure that whatever he touches turns to gold. At DUT he obtained full distinctions for his studies from the beginning until he completed his qualification.
"My journey at DUT was amazing. I was blessed with a stable support structure both at home and on campus. DUT's facilities enabled me to achieve great results," said Majola.
Speaking about the idea behind the name of his business, Humble Café, Majola said he owes his success to his humble beginnings.
"Love knows only humility. I do everything starting and ending with love. I'm passionate about food, people, business, and creativity. All that I am began from humble beginnings which is depicted in my craft," explained Majola.
He said what sets them apart from other food joints is that the food is prepared right in front of the customer, giving the customer a chance to engage with the chef. Furthermore, he said at the food truck, they concentrate highly on quality and freshness of the ingredients used.
The highlight of his business has been running it together with his grandmother, the most impactful person in his life.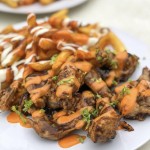 Majola is grateful to God that his business is still running despite being hit hard by the COVID-19 pandemic.
"My business and I are still feeling the negative effects of COVID-19 but to say we are not grateful to be still running would be an insult to God. We have taken measures like social distancing, sanitising and wearing masks very seriously and have a budget to carry those regulations out," he said.
His business aspiration is to officially open a sit-down restaurant where he can further improve the Humble Café experience, offering exquisite food at affordable prices.
To see more of what the Humble Café has to offer, please follow their Instagram page @humble_cafe and Majola's personal page @lindah_majola.
Pictured: Lindah Majola and the food he offers at the Humble Café.
Simangele Zuma