In keeping the Nelson Mandela legacy alive, DUT's Midlands Student Services, together with the Msunduzi Municipality, on Friday (17 July 2015) celebrated Nelson Mandela Day by visiting Isandla Esihle Disability Centre in Sinathing, Pietermaritzburg, taking with them nutritious food, winter clothes, toys as well as chairs and tables for the kids.
"When the Msunduzi Municipality team conducted a door to door campaign, they realised that at this particular house, the kids were not only disabled but needed more than what they had at the time, therefore after we speaking to them, we decided to extend a hand of assistance and chose to not only take food, furniture and clothes to them, but starting a vegetable garden as well," said Bawinile Mngoma, DUT Midlands Health Promoter.
The annual international Mandela Day celebrations in honour of SA former president Nelson Mandela. July 18 is the icon's birthday and the day was officially declared by the United Nations in November 2009, with the first UN Mandela Day held on 18 July 2010.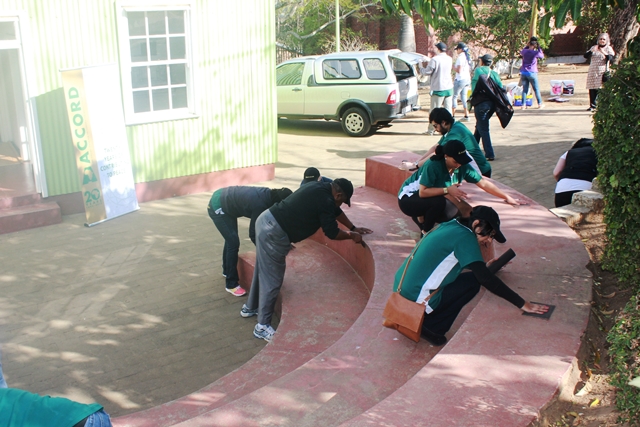 Meanwhile, doctors from the University's Homeopathy Department conducted their community outreach programme at the Ukuba Nsibindi site in Warwick Triangle and at the Redhill Community Clinic. "We conducted general health queries and gave advice where it was needed. Mandela was an individual who believed in unity and a better life for all South Africans and we, at the Department of Homeopathy, saw the necessity of conducting this health drive," said Dr Jabu Ngobese-Ngubane.
The Ghandi Trust Development (GDT) and the Department of Fashion and Textile at DUT both had a two day programme. On Friday, the GDT went to the Phoenix Settlement, Bhambayi, alongside with Accord and scraped and painted the amphitheatre and the walls. On Saturday, the team from the GDT returned to the Phoenix Settlement with other invited groups to work on the gardening of the area. On Friday, the Department of Fashion and Textile collected toys and clothes alongside with other goodies to contribute to the WE ARE DURBAN Foundation. The handover of the proceeds was done on Saturday and the students further assisted at a market that the foundation had.
Pictured: DUT Midlands Campus staff during Mandela Day. Also pictured is the Ghandi Trust Development and Accord Staff.