The sky is the limit for Durban University of Technology's (DUT's) Masters in Human Resources Management student, Sheinna Mungroo, who recently featured in the international beauty and cosmetics brand, Maybelline USA's website.
Mungroo (27), a Human Resources Consultant and Beauty YouTuber, received this once-in-a-lifetime opportunity after being approached by Maybelline New York to feature in their social media and marketing campaign. She currently features on the Shop the Look section on Maybelline's website that explores makeup looks, makeup tutorials, and makeup videos with the best foundations, mascara, lipstick and more.
According to Mungroo, this opportunity came after she posted a video of her easy yellow eye shadow look using Maybelline products on her YouTube beauty channel named Beauty by Sheinna Mungroo.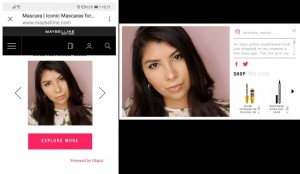 "Maybelline New York commented on my post and asked if they could use the final look for their marketing and social media campaign. It took approximately a week before I was featured on the Maybelline USA website under their Beauty Influencer Shop This Look section. I was absolutely thrilled since Maybelline was one of the very first brands I used as a teenager, and to have them feature me on their website was an honour and privilege," said Mungroo.
She was a finalist for the Miss India South Africa 2017 pageant and has proven that she is not only beautiful but is equally smart after graduating Cum Laude for her National Diploma and once again in her BTech in Human Resources Management in 2016.
Her passion for makeup led her to recently start a YouTube beauty channel where she posts content once a week, every Sunday.
Apart from Maybelline USA, Mungroo said other beauty brands have also shown interest in her videos such as Catrice Cosmetics, Essence Cosmetics and KiKi Beauty SA.
"On the creative front, I had written beauty content for Brown Girl Magazine, an international publication that targets South Asian women in USA, Canada, and the United Kingdom. I had also written articles for Women on Topp, an online magazine, which focuses on providing content that will challenge and inspire women in their businesses and careers. It also focuses on how to sustain and build upon professional success," stated Mungroo.
Part of her foreseeable plans are to complete her Masters Degree whilst still maintaining and growing her makeup project and her beauty YouTube channel.
Mungroo believes in exploring as many creative streams in life as this is a form of expression and a link between the internal and external worlds. When she is not painting up a storm, she loves exploring new cafés and chocolate desserts.
Like, Share and Subscribe to Beauty by Sheinna Mungroo on Youtube. Follow Sheinna Mungroo on Instagram @Sheinna_Mungroo and on her Facebook handle: Beauty by Sheinna Mungroo.
Pictured: Sheinna Mungroo.
Simangele Zuma