The current Miss Durban University of Technology (DUT), Zabelo Hlabisa has embarked on a campaign to assist students who need graduation essentials.
The BTech: Office Management Technology student said she has always had a dream of helping people who are in need. She has then started her foundation which is called Zabelo Foundation. Her foundation is currently focusing on helping students who are in need of graduation essentials nationwide.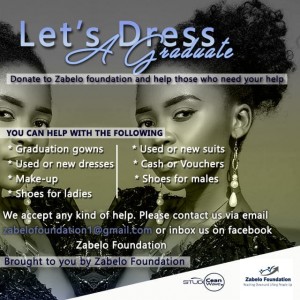 "What has motivated me to start this campaign was a comment that I saw on Facebook during the University of Kwa-Zulu Natal's graduation ceremonies. A lady was talking about how she wishes to attend her graduation ceremony but she could not because of her family background. She said she was the first to complete her studies to the level she was in and graduate. That alone challenged me. I have also had some students at DUT approaching and opening up to me about how they want to attend their graduation but they don't have essentials for their special day. I then decided to start this campaign," she said.
"I am happy to say that we have helped 15 students thus far. We wanted to start with a small number, first to see how it works out. We have managed to help all 15 students with shoes, dresses, gowns and some are in need of makeup. We have also assisted two students from the University of Free State and Walter Sisulu University," she added.
She encouraged people who can contribute towards this campaign to engage with her. "People who want to lend a helping hand, can contact me. There is a Facebook page called Zabelo Foundation where people can find more information about the campaign. A lot of people have made contact with me and the responses have been very positive," she said.
She also added that more women were keen to assist. "I would like to encourage men out there to also see a need to help our fellow brothers with their graduation essentials. We are really battling to find graduation items for males due to the poor response from our brothers," she stressed.
Pictured: Zabelo Hlabisa
Sanele Xaba