The Durban University of Technology's (DUT's) second-year Food and Nutrition student Shannon Pillay has been at the forefront of collections for the Golden Key Phakimpilo Food Drive contribution at the Durban University of Technology's (DUT).
"Hunger and food insecurity are important as one cannot concentrate, study or focus without consuming a good nutritious meal. Our current situation, COVID-19 has had its toll on people around the world and in South Africa and leading to a higher food insecurity rate. From a young age, I have always wanted to be involved in community engagements and being a student at DUT has made this possible. I have a fire burning within that drives me towards helping others in every way possible," she said.
Pillay relayed that when she recently saw the Golden Key DUT Chapter needing assistance through their communique, she knew that she had a responsibility and that this was the perfect opportunity for her to help curb food insecurity within DUT.
Before approaching family and friends, she spoke to a few DUT students, conducted an analysis and asked them how many canned food items would they normally use in a month.
She then started raising awareness amongst family members, the DUT community, friends, neighbours and a few businesses, that she had interacted with frequently about the DUT Food Drive and its aim.
"At this point, I shared my views and thoughts about hunger and food insecurity and how this negatively impacts students, especially those who might only have one meal a day and go to bed hungry. I hate hearing that people go to bed without a meal and the fact that a fellow student of mine could be experiencing this made it harder for me to listen to," she said.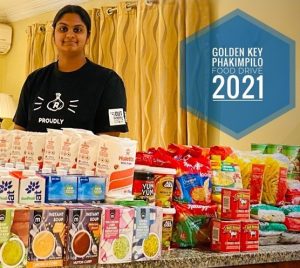 By engaging with her sponsors, she used innovative ways of communicating, which also led to her in engaging with the broader community.
"My target for this food drive was to contribute 200 non-perishable food items. Through my continued efforts and innovative ways of communicating, I have since managed to collect 321 food items from my generous sponsors, whom I am grateful to: High Octane Tuning, Broadway Building and Civils, Al Sameers, Beauty on Cowie, family, friends and the DUT community," she relayed.
Pillay created 20 pre-packed 'Nutritious Food Boxes' which contains 15 items such as a high fibre cereal, sugar, rice, flour/samp, noodles, pasta, milk, instant soup, peanut butter, jam/canned fruit and canned foods (meat, vegetables and beans).
"The boxes should last a student approximately 3 to 4 weeks. I know that these items will be appreciated by those who are in need. These items would also help one to eat healthy and it will improve their overall physical, mental well-being and stay focused especially now as we start to write tests and exams," explained Pillay.
For her, the whole experience came with its own responsibilities and valuable life lessons. She indicated that she had enjoyed every moment of engaging with people, businesses and especially when she had to explain the aim of the initiative, her passion for helping those in need and why she wants to help make a difference in the DUT student community.
"Any non-perishable food item can make a difference to a student in need. I now challenge others within DUT to help make me in making a difference and to help curb food insecurity within the DUT student community. If you have not had a chance to contribute towards the food drive, now is your chance to do so," she stressed.
Dr Ayanda Charity Mthethwa, Psychologist, Counselling and Health, who is also the Golden Key DUT chapter advisor, explained how grateful the student based organisation is for the contributions made by Ms Pillay.
"As the GK DUT chapter committee no words can express how thankful and grateful we are with the donation that Ms Pillay has made towards the food drive. By far, her donation is the biggest since starting the drive and will go a long way in assisting students in need," she added.
Dr Mthethwa further indicated that Pillay's methodological way of going about seeking food items for the drive to what went into each nutritious box was astounding and really exemplifies one of the Golden Key ethos of community involvement which is based on transforming academic knowledge into practical strategies that help address real societal issues such as food insecurity.
"We really laude her commitment and contribution to our drive. She has set the bar extremely high and we are prayerfully optimistic that many other members of staff and students will follow suit in order for us to make a tangible difference in the community (committee)," she conveyed.
If anyone would like to make a contribution, and for collection of items which will go towards a 'Nutritious Food Box', contact Student Counselling and Health on 031 373 2223 to book a time for drop-offs.
Pictured: Dr Ayanda Charity Mthethwa with second-year Food and Nutrition student Shannon Pillay.
Pictured: Second-year Food and Nutrition student Shannon Pillay with the 'Nutritious Food Boxes'.
Waheeda Peters