Nadine Ponnusamy, who is currently completing her Honours in Urban and Regional Planning at the Durban University of Technology (DUT) has made the university proud after winning an international competition, the GeoTech Center Virtual GIS Day Mapping Contest.
Ponnusamy (24) is ecstatic after winning this competition which she feels has put her name on the map. Her map is currently posted on the Geotech Virtual GIS Day website: https://geotech-virtual-gis-day-kctcs.hub.arcgis.com/pages/map-gallery.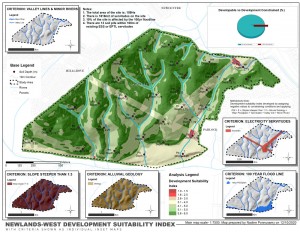 She said she found out about this competition after one of her lecturers posted its details on their Microsoft Teams general chatroom and had encouraged her to enter the competition. Luckily for her, she said she had created a map two months' prior this competition not knowing it will be a winning map.
"It did not take me very long to prepare for this competition as I had submitted a map I created about two months prior to this competition. However, preparation of the map I submitted took me about two days to complete. All I had to do was insert a write up explaining the map. I submitted a suitability map, and the map has been posted on the Virtual GIS Day Hub site," said Ponnusamy.
When entering the competition, she said she honestly did not think she stood a chance to win as this is an international competition. However, when she found out that she had won, she was very surprised and happy since this was the first competition she ever entered and won.
"I won an ArcGIS Pro license for personal use. This is the software used to create maps. This software is usually very expensive, and I am really happy to have won this. I have not yet collected my prize," said Ponnusamy.
Speaking about this achievement, she said it means the world to her, especially because one of the career paths she is looking into, is becoming a Geographic Information System (GIS) Specialist. She said this achievement has taught her to never doubt herself.
"My GIS lecturer, Stanislas Rwandarugali, has always believed in my capabilities and has supported me since my third year of university. This win also symbolises the high quality and standard of work that the Department of Town and Regional planning put into nurturing each and every one of their students. I am truly grateful for all the support given to me from day one," she said.
If given a chance to enter this competition once again, Ponnusamy said she would be more than happy to do so because it would give her a chance to showcase her skills and make the Department of Town and Regional planning proud once again.
Pictured: Nadine Ponnusamy and her winning map.
Simangele Zuma