CLIFTON COLLLEGE SCHOOL WIN F1 IN SCHOOLS CHALLENGE 2014
Media Statement by Alan Khan, Senior Director of Corporate Affairs at the Durban University of Technology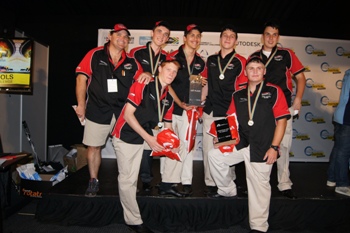 Clifton College pupils were all smiles as their team competing in this years' Top Gear Festival's Legacy Project – the F1 In Schools Challenge 2014, were crowned champions, at the finals. The event was held at Suncoast Casino and Entertainment World on Saturday (17 May 2014).
The team aptly called Team Honey Badger, raced their prototype race car down the 20-metre track, winningin a time of 1,1278 secs at the The F1 in Schools Technology Challenge 2014, a competition where 12 teams of students designed and created their prototype F1 car of the future with the support of Top Gear Festival Legacy Unit and Durban University of Technology – Faculty of Engineering.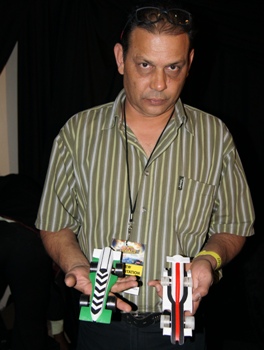 The F1 in Schools Challenge is a collaborative initiative between Top Gear Festival Legacy Unit Durban, DUT, Sangari SA, Autodesk and Modena. The exciting project which was piloted last year, is about encouraging high school pupils to pursue future careers in engineering, science and technology – fields which are the backbone of any economy. Maths and Science therefore play an integral role for pupils who participate in this competition.
In this year's Challenge, school teams from Clifton College, Crossmoor Secondary School, Durban Girls' College, Eden College, George Campbell Technical School, Inkosi Umdibaniso Comprehensive High School, Open Air School, Phoenix Technical School, Sivananda Technical School and Umlazi Comtech battled it out at the finals.
The 12 participating teams were mentored by the academic staff and Mr Mohammad Bux, an Industrial Engineering student, from the University's Industrial Engineering Department; familiarising them with CAD and CAM, the design and manufacturing computer software being used to create the 21cm miniature versions of the F1 race car of the future. The Department of Transport supported the initiative by sponsoring each team with a race kit that which included four black fusion wheels and axels, sandpaper, screw eyes and the vital block of balsa wood.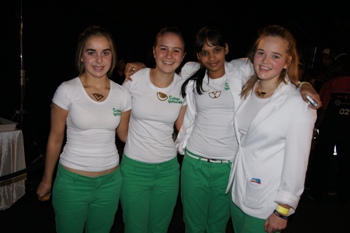 The top three teams were: first place-Team Honey Badger (Clifton College), second place-Team Torc (George Campbell Technical School) and in third place was Team Alpha-(Durban Girls College).
Alan Khan, Senior Director of Corporate Affairs at Durban University of Technology said that he was impressed with the excellent quality of entries this year. He added, "DUT is proud to work with Top Gear Festival Durban, the F1 in Schools Challenge and all the partners and sponsors who work so hard in giving this amazing opportunity to our schools, the students who participate and the teachers who lend their support. Also, it was wonderful to see more girls participating this year and you never know, a future Formula 1 designer or race engineer could be found amongst this year's group of participants? Congratulations to all the schools, teachers, pupils and their parents who took part in the 2014 F1 in Schools Challenge and well done to Clifton College for winning the gold medal and for finishing first on the podium."
Principal of Durban Girls' College, Mr Thomas Hagspihl, said, "The competition was fantastic, the girls have done really well, competing with the boys. We are so proud of them."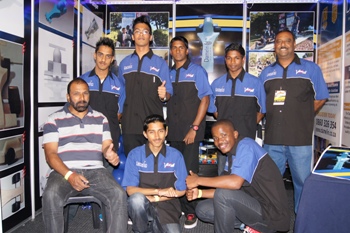 The team from the Department of Industrial Engineering at DUT who were instrumental in nurturing and helping students with their designs, were also very chuffed at the high standard of protype cars that raced in the finals.
"The kids were very excited to set up their displays, get their cars in order for the day. The two girls teams were very good, proving they were not teams to be easily dismissed," said Mr Ranil Singh (Senior Lecturer – Industrial Engineering).
" I am also extremely happy with the calibre of protypes produced by the pupils , a job well done to each and every team member who had participated. All the teams worked really hard with their cars and hopefully it will continue. I would also like to give special thanks to members of my staff namely Mahendra Herelall, Kershni Dhavraj, Themba Shabane, Hester Jackson and S4 student Mohammad Bux for their unwavering support and assistance throughout this competition," said Acting Head of Department Andrew Naicker.
Top Gear Festival Legacy Initiative Project Manager, Anna Sacks, said, "The standard of the cars was excellent and you can see the amount of work that has gone into the designs."
The teams were judged on a number of criterias and awards went to schools for;
Best Engineered Car-Team Velox (Crossmoor Secondary School), Best Verbal Presentation-Team Torc-(George Campbell Technical School), Best Portfolio and Pit Display-Team Honeybadger (Clifton College), Best Team Marketing and Sponsorship-Team Alpha-(Durban Girls College), Fastest Car and Overall Winner of the Challenge-Team Honey Badger (Clifton College).
All teams will exhibit at the Top Gear Festival, set to take place on June 21 and 22, 2014. Here, festival-goers will be able to see the miniature cars race as well as the teams' pit displays and portfolios.
Caption
pic1
Team Honey badger are the champions of the The F1 in Schools Technology Challenge 2014.
pic2
Senior lecturer Ranil Singh from the Industrial Engineering Department, shows off the 1st and 2nd winners of the final race.
Pic3
Team Alpha-(Durban Girls College).
Pic4
Best Engineered Car-Team Velox (Crossmoor Secondary School).
Pictures are available on request and can be obtained from: Waheeda Peters (Communication Officer): waheedap@dut.ac.za or 031 373 2113
Issued by:
Noxolo Memela
Media Officer
Botanic Mansions
Division: Corporate Affairs
Steve Biko Campus
Gate1
Tel: 031 373 2899
Fax: 031 202 2475