Excited first-year students made their way to the Durban University of Technology's (DUT's) 2020 first-year Orientation programme taking place at the ML Sultan Campus, Curries Fountain from today (Monday), 27 January 2020 until Friday, 31 January 2020.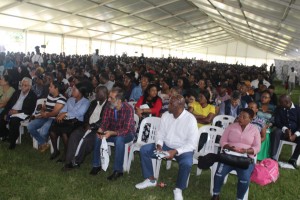 The week-long integrated institution-wide first year orientation is aimed at raising awareness of the expectations, cultures, traditions and resources that many students often overlook or forget are available to assist with their success in the university. Various DUT academic heads of departments along with Dr Maditsane Nkonoane (Dean of Students), were also at the event to mark the auspicious occasion and share their academic requirements and expectations from the students.
Welcoming the first-time students to DUT was the Vice-Chancellor and Principal Professor Thandwa Mthembu, who said he was very excited that so many students had come through this morning to mark this day of an important milestone in their lives. He also made special mention to all staff and departments who were responsible for putting the event together, as well as the parents for making time to celebrate the new journey their children were embarking on at DUT.
He also congratulated the class of 2019, especially the majority of DUT students who were born and raised in KwaZulu-Natal and who had achieved the 81.3% pass rate. "We really appreciated that we (DUT) got students that come from the broader region around KwaZulu-Natal, the Eastern Cape and the Free State, we really appreciate that you (students) considered DUT as your next step in your educational career. There are 790 000 pupils who wrote matric last year, only 291 000 got what is called Bachelor passes, only 225 000 of those got Diploma passes, so you are very special because from such a cohort of about just under 800 000 younger people, you are here today," he said.
Prof Mthembu also added that there is also a responsibility that comes with being a student as there are societal challenges that they will face. "We need solutions to societal challenges, we need a lot of innovations in this country to ensure ourselves of a brighter future. I am calling on all young people to think creatively about all the challenges we face in this country and try and find new solutions to these. Being at university also means you must be a game changer," he stressed.
Prof Mthembu also said that there will be a lot of changes happening at DUT over the next few years, with the aim of improving the infrastructure, residences and facilities at DUT. He said that as from October 2019, revamping and refurbishing of all DUT residences and facilities were being done to ensure that the facilities are the best at DUT. He indicated that by 2024, based by the decision from council, DUT will be investing 1.1 Billon Rands for the refurbishment and rebuilding of infrastructure, going forward.
Prof Mthembu once again thanked the parents for their commitment and the role they play in their children's lives.
"Thank you to all parents for your support and I hope going forward you will continue to give your children your dedication to ensure and secure the future of these young children," he said.
Also taking to the podium was the SRC's Andisiwe Dyantyi, who stressed to students that DUT was a good place to study and to always adhere to the theme of "I am DUT."
"I want to congratulate students for being selected to come and study at DUT. Also, I want you to remember that you are the cream of the crop of the country because you were selected out of 81.3% that finished matric in 2019. Bearing that DUT is the best academic institute in KwaZulu-Natal, we would expect every student to perform academically, socially and spiritually to uphold the standards at DUT. The SRC will also work closely with the DUT administration to promote unity and peace and uphold the DUT core values," she said.
Speaking on their experience at the Orientation programme was Vuyisa Guga, a first-year Built Environment and Architecture student. He said the orientation programme was very informative so far. "I feel very privileged to be here at DUT because it is one of the best universities and it focuses on what I want to do and achieve," he said.
Zipho Mlambo, a first-year Shipping and Logistics student, said being part of the orientation programme was exciting. "I am happy to be part of the DUT family and I am looking forward to my future ahead," he said.
Further presentations for the week will continue with talks on how to maintain academic excellence in a University environment, disciplinary rules and the strategic planning objectives by the Planning team at DUT. The rest of the days will continue with themes for each day until 31 January 2020.
Pictured: Vice-chancellor and principal Professor Thandwa Mthembu, speaking at the Orientation.
Pictured: DUT students and parents at the event.
Sanele Xaba and Waheeda Peters