Professor Jean-Philippe Wade, Head of Department: Video Technology hosted a virtual inaugural professorial lecture on Friday, 26 March 2021 via MS Teams.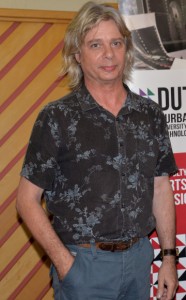 Moderator of the virtual lecture session was Zwakele Ngubane-Director: Advancement and Alumni Relations. "Lectures of this nature are highly significant and important for a university or any higher body educational institution as we seek to contribute to public discourse and offer various academic, theoretical as well as experiential views on matters that may be of interest to the public in general; but also more particularly to other academics and students and also staff members in general are of DUT, so we are looking forward to hearing from Prof Wade," he said.
Giving the official welcome was Prof Sibusiso Moyo-Deputy Vice-Chancellor: Research, Innovation and Engagement.
"We come together as a university community to celebrate the ascension of Professor Jean-Philippe Wade to the status of full professorship at DUT. Also, we use this day as a reminder of our DUT strategy, Envision 2030 and the four perspectives on Stewardship, Systems and Processes, Sustainability and Society. The inaugural lecture, apart from being the most outstanding milestone in an outstanding academic, also represents the official recognition by the university of the outstanding achievement made through a rigorous process of appointing a professor at DUT," she said.
Introducing Prof Wade was Prof Brian Pearce-Acting Executive Dean, Faculty of Arts and Design, who gave an overview of the lecture titled: Burning Desire: The Strange Story of Izikhothane.
He said the talk will look at a South African youth subculture, which publicly destroys expensive brand commodities, and argues that its strange behaviour can be read as a post-modern critique of the waste generated by consumer capitalism.
Prof Wade spoke on the meaning of Izikhothane or I'khothane (a Nguni word meaning 'to lick'), an unusual African youth subculture that was brought to the public's attention by an article in the Mail and Guardian in 2011, and, more infamously in 2012 in the Third Degree programme by Debora Patta, an investigative journalist working for E News.
He emphasised that these media stories highlighted the 'conspicuous consumption' lifestyle of these subcultural youths from the poor townships around Johannesburg, such as Katlehong and Soweto, which included spending small fortunes on designer clothing brands such as Levi's and Nike, iPhones, and expensive alcohol such as Johnny Walker Black.
"Crews would compete against each other in public to be recognised for having the most expensive fashion commodities, and these 'face-offs' would be characterised by outlandish boasts and mockery of opposing crews. What really caught the attention of the media was that on occasion the working-class Izikhothane youth would set fire to their designer clothes and real money, generously splash cartons of Ultra-Mel custard about, and destroying KFC food," he said.
Prof Wade relayed that the tone of public outrage was articulated by Debora Patta, who spoke of a 'disturbing new phenomenon', of 'bling going obscenely mad', and even of youths being driven to suicide by the costs of maintaining the Izikhothane lifestyle.
Prof Wade spoke of the time at the height of the public scandal about Izikhothane, Nandos got into the act, making an advert involving an Izikhothane challenge between two 'crews' setting fire to their expensive belongings, while the voice-over welcomed the fact that 'we still tell stories around the fire'.
"My interest is precisely in what sort of stories Izikhothane is telling us around the fire. We think for example of what sort of story Jimi Hendrix was telling us when he set fire to and destroyed his Fender guitar at the Monterey Pop Festival of 1967, or what story women were telling us when they burned their bras in the 1960s. Or, for that matter, what story those students were trying to tell us when they allegedly tried to set fire to a DUT security guard," he said.
Prof Wade said that most of the recent academic research into Izikhothane argues that the story they are telling us is a conformist one, of youths lingering in the crucible of capitalist Johannesburg, and entranced by a dazzling post-apartheid globalised consumer culture to which they uncritically aspire, egged on by glittering role-models such as Kenny Kunene, the 'Sushi King'.
He also delved into the aspects of consumer culture studies where he emphasised more about symbolism, cultural consumption and culture to commodities, for example purchasing Marlboro cigarettes which is actually regarded as rugged masculinity.
Prof Wade gave more understanding on the four provocations, saying: "In Provocation one: We have been taught that the advert exists to sell a product; the truth is that the product is there to sell the advert. We buy status, we buy identities, we buy sexiness. The second aspect of consumer culture studies important for my analysis is the notion of the 'active audience', which is central to the discipline of Cultural Studies. Cultural Studies focuses on the everyday lives of ordinary people, and Paul Willis has drawn important attention to what he describes as the imaginative 'symbolic creativity' of ordinary people, which is often overlooked by those who assume art is made by elites and housed in art galleries," he said.
Prof Wade said this symbolic creativity can be found in the way people customise their cars, and it can also be found in the emergence of hip-hop in the desperately run-down streets of the South Bronx in the late 1970s, which is now a universal musical form showing no signs of fading away.
He chatted on Provocation two, saying capitalism does not only dominate us (people), obliterating all oppositional agency, so that the only solution is to bring it down entirely. It can also be actively used. "Social democracy – the notion of a regulated, welfare-oriented capitalism as is found in western Europe – is an example of capitalism being re-shaped to make it more friendly to the poor. Anthropological studies have shown us that using objects for more than their functional value is also found in traditional societies. Think for example of the role of cattle in Zulu marriage rituals, or of the ritual of the family meal where the food 'marks' the reproduction of family relations. Similarly, material goods can also be seen as 'rank markers', communicating one's social status," he said.
Prof Wade spoke further on the traditional consumption practice most closely aligned with Izikhothane which is known to anthropology as the potlatch, giving examples such as the Kwakiutl Indians who were obsessed with the attainment of wealth through possessions, and these included hunting and fishing territories, spoons, heraldic crests, myths, songs, and very importantly nobility titles.
"Besides the gift-giving, the other way to shame your rivals was for nobles to have a feast or potlatch to which their rivals would be invited, and where the host chief would indulge in 'unabashed megalomania', boasting luridly of his greatness, and taunting rivals with insults," he said.
Explaining on the third Provocation, Prof Wade said: "Social status through conformist consumption is modernist, while identity-making through using consumption is postmodernist."
Focusing on Provocation four, he said that in the postmodern period, opposition to the dominant system is revealed through the assertion of individual autonomy.
"This can be seen in the transformation of tattooing in the West. A Durban tattoo parlour reveals this shift. It is called 'Sin on Skin', in other words carrying that earlier meaning of outsider deviance, but now that sense of 'sin' is re-defined to enable people who get tattoos to maintain, not a backstreet outsider identity, but an autonomy from 'mainstream' culture. The deviance is no longer a radical opting out of the system, but an internal distancing which opens up a space for individual self-fashioning. In customizing your body, you customise your identity," he said.
For Provocation five, Prof Wade relayed that it comes from a book he perhaps needs to read. 'For the meek shall inherit the earth'.
The presentation was then followed by a question and answer session and a vote of thanks which was given by Prof Nokuthula Sibiya-Deputy Vice-Chancellor: Teaching and Learning.
She gave a sincere vote of thanks to the executive management and organisers of this event, which included the DVC: RIE office, Corporate Affairs, ITSS, the Marketing team and Audio Visual. She also thanked Prof Wade for a wonderful and insightful presentation.
Pictured: Prof Jean-Philippe Wade, Head of Department: Video Technology, Faculty of Arts and Design.
Waheeda Peters