"The main objective of my book is to highlight the importance of work-life balance and personal excellence," said the Durban University of Technology's (DUT's) Professor Oluwatosin Ijabadeniyi. He is a Professor within the Department of Biotechnology and Food Sciences at DUT. His area of expertise is Food Safety and Quality. His book titled: Excel Everyday was produced on 13 October 2020.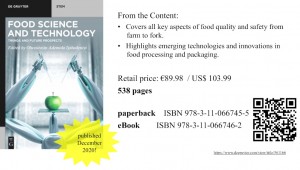 "My book is a personal development and self-improvement book containing 365 vignettes (about 250 words each) that could assist readers to live their best lives," said Prof Ijabadeniyi.
He explained that the book Excel Everyday contains wonderful and amazing pieces of information that will encourage readers to exceed expectations and never give up in any area of their lives, be it spiritual, financial, family, social, intellectual or career-wise.
"Three PhD students from the Department of Biotechnology and Food Sciences participated in writing of chapters of Food Science and Technology, Trends and Future Prospects. This book is edited by me as well. The book which covers all key aspects of food quality and safety from farm to fork was published by De Gruyter, in Germany in December 2020. It presents different aspects of food science i.e., food microbiology, food chemistry, nutrition, process engineering that should be applied for selection, preservation, processing, packaging, and distribution of quality," he explained.
Prof Ijabadeniyi elaborated further by saying: "The authors of the chapters in the book focus on the fundamental aspects of food. Also highlight emerging technology and innovations that are changing the food industry. The book is valuable for researchers and students in Food Sciences and Technology and it is also useful for industry professionals, food entrepreneurs, and farmers."
The book is available for purchase on Amazon: https://www.amazon.com/Excel-Every-vignettes-help-live-ebook/dp/B08PL2ZM9B.
To order the Excel Everyday book, follow this link: https://operationtransform.org/shop/.
To order Food Science and Technology, Trends and Future Prospects, follow this link: https://www.degruyter.com/document/doi/10.1515/9783110667462/html.
Pictured: Professor Ijabadeniyi's books: Excel Everyday, and Food Science and Technology.
Nikiwe Sukazi