The Durban University of Technology (DUT) is hosting its first DUT- Massachusetts Institute of Technology (MIT) Summer School Programme on a Quantitative and Qualitative Data Analytics Workshop which takes place at the Ritson Campus from 13 to 28 January 2020. The programme is hosted in partnership between DUT, MIT-Africa, and Admond Capital Seed and Growth Engine (Pty) Limited (ACSeedE) and sponsored by Standard Bank South Africa.
The programme covers topics such as Description of Different Data Sets and Different Methods used to analyse the data, Tools for Quantitative and Qualitative Analysis, Ideas on Open Source Platforms that can be used, Some theory and case studies that can be shared, and data set cases for interaction with participants.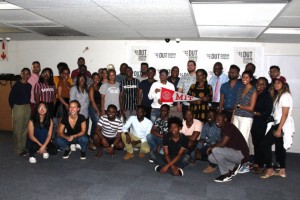 ACSeedE has an agreement with MIT through the MIT-Africa Initiative to work with South African Universities to deliver world class programmes that contribute to the ecosystem that prepare our society for 4IR.
The goals of MIT-Africa and the South African Universities Programme are to promote mutually beneficial connections that foster problem-solving and innovation approaches among South African students, and upgrade programmes that prepare students and faculty for the Fourth Industrial Revolution (4IR).
The implementation is done through a multifaceted framework that includes several units at MIT and multiple South African universities (with a major focus on the Universities of Technology and historically disadvantaged institutions).
Preparing and equipping students on skills on how to be critical thinkers and tackle complex problem solving during the era of the Fourth Industrial revolution (4IR) are some of the reasons behind the workshop.
The team delivering the course comprises of the Massachusetts Institute of Technology (MIT) instructors, Jennah Haque, Francesca Macchiavello, Christabel Sitienei, Jasmine Zou, as well as DUT's Senior Lecturer at the Department of Information Technology (IT), Mr Ebrahim Asmal and the Chief Information Officer: Dr Progress Mtshali, who will teach on Artificial Intelligence (AI).
Mr Simphiwe Duma (an MIT graduate ) is the Managing Partner­­­­­­­­ and CTO at Admond Capital and is the South African based coordinator of the MIT-Africa and South African Universities Programme. He welcomed all participants to the inaugural MIT-DUT Summer School Programme, saying that this is part of the output of the MIT-Africa and South African Universities Programme that is facilitated by Professor Hazel Sive at MIT and himself. "At Admond Capitol, we understand and value the efforts of collaborating with a multitude of partners for mutual benefit. We also value the importance of well-skilled human resources who can tackle many challenges we face as a country and the globe. We really have to come together and take advantage of this opportunity to be skilled and get ready to face the world," he said.
Duma also stressed that the participation of Standard Bank as a sponsor in this initiative is a significant development as the aim is to increase the involvement of the private sector in supporting higher education in South Africa for mutual benefit.
The four international senior students from the Department of Electrical Engineering and Computer Science at MIT are also joined by the Managing Director of MISTI programmes from MIT, Mr Ari Jacobs, who's very excited to be in Durban. He introduced his team and spoke further on the role of MISTI which helps MIT students develop practical intercultural skills through hands-on experience working alongside international colleagues.
"At MIT we have this broader MIT-Africa Initiative, and we have discovered that at MIT; there a lot of people that are doing different projects and collaborations with African partners. One of the key pillars in the initiative is that the department from where I am from, the MIT International Science and Technology Initiatives (MISTI), which is MIT's global experiential learning programme of our department, you will see many, many different countries, all over South America, Europe, Asia where we give our students the global opportunity to travel the world. The notion is that we partner with institutions like DUT and other places around the world that we can share some of the things we are doing. We see partnerships and collaborations with Africa as critical for the future of the global economy," he said.
Deputy Vice-Chancellor-Research, Innovation and Engagement at the Durban University of Technology (DUT): Professor Sibusiso Moyo welcomed the teaching team from MIT, the DUT teaching and project team, as well as all participants to the Quantitative and Qualitative Data Analytics Workshop.
"Whichever field you in, you normally have to deal with a lot of information and it can come in many forms. You have to normally analyse that information, obviously when it comes to decision-making in any situation that we are in, whether its management or from a scientific point of view, one has to always provide evidence-based information, and there many tools that one can use for that," she said.
She further added that the MIT Africa Initiative seeks to promote mutually beneficial engagement in research, education, innovation contributing to economic and intellectual trajectories of African countries while advancing MIT scholarship and research.
"The international linkages also help us to bring internationalisation at home with a reach to a greater number of students," she said.
The course over the next two weeks aims to prepare students to gather, describe, and analyse data as well as use advanced mathematical tools to make data-driven decisions that affect the real-world. The students would learn programming with python, linear algebra, regressions, and clustering methods for machine learning.
Phumzile Xulu, a Community Engagement Practitioner at DUT, is excited about the workshop adding that this is a great student community engagement initiative . "Student Community Engagement is about students sharing their knowledge and skills with others and the DUT-MIT Summer School programme is a classic example because it works with students to design and facilitate the programme. I hope that our students here at DUT can learn from their MIT peers and work to develop a similar programme that they teach to local communities," she said. On completion, students will receive a certificate of attendance.
Pictured: DUT- MIT-Africa Summer School Programme team at the workshop.
Pictured: The DUT- MIT-Africa Summer School Programme team and participants at the workshop.
Waheeda Peters