Nomfundo Madlala, the third-year Fashion and Textiles student who received the Best Range on Show award at the finale of the 2013 Annual DUT Fashion Show on Friday (4 October), is beside herself with excitement.
Very confident in her range, the student said she had an inkling that she may take home an award on Friday evening, it just did not occur to her that that award would be of the Best Range on Show. "I love my range so much; I think it was worthy of receiving an award. I won't lie though, I didn't expect to win the Best Range on Show at all," she said.
Given the theme i-aesthete, third-year students were tasked with each creating a seven-piece range. Madlala's range came as a result of a very strong concept inspired by the human anatomy. She admits that Biology was one of her strongest subjects back in high school so it was only natural that she would refer back to it. "I was inspired by the human anatomy and the focus was on the muscular system. I reflected the muscle tissues and fibres through the handwork that I did- pleating fabric by hand and folding it into strips to later place it on the garments. I used suede cloth, mesh, viscose and other fabrics; it's basically layers and layers of fabric fused together to embody the human anatomy," she said.
The earthy tones of burnt orange and red used on the range are a continuation of the muscular system, Madlala explained, adding that the objective was to create an eccentric emotion and mood so that the audience could "live and breathe the garments". The use of dresses throughout the range was also a strategic move as Madlala intended to create a cohesive collection. Using dresses thus allowed her to use various styling details in all her garments.
Born and bred in KwaMadlala, a small village populated by the Madlala clan in Port Shepstone, Madlala and her three younger brothers were raised by their grandparents after the death of their parents. It was in here where the fashion student developed her love for fashion. Like most young girls, she used to design and sew clothes for her dolls but little did she know that her childhood hobby would later become her career of choice.
In her first-year at DUT, Madlala quickly realised that her expectations of the Fashion and Textiles course were a far cry from reality. In place of the four subjects she initially expected to study came approximately nine learning areas. The reality of this posed a great challenge in her ability to juggle the workload. Her passion for the course coupled with persistence is what eventually saw her through. She now values every moment spent in the Fashion and Textiles Department. By far, the biggest lesson she has learnt is the importance of having a concept when designing a range because it enables one to be innovative and creative.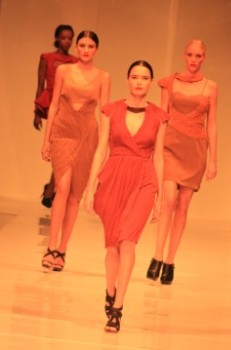 Describing her staple design style, she said she loves using sinuous lines in her garments which make them theatrical. She also loves everything that involves true craftsmanship such as hand-sewing.
With a tiny body frame and a quiet disposition, Madlala may come across as an individual who shuns the limelight but this young lady is working towards having models, dressed in her designs, grace national and international runways. "I see myself growing here in South Africa and abroad. My style is groundbreaking so I feel the world should get to see and appreciate it," she asserted.
This year's show was themed i-aesthete, a theme designed to get designers to look at their aesthetic to question their idea or appreciation of beauty. The theme was also a play on the digital age we live in and how we receive and process information, and in turn how this affects our aesthetic eye or I.
An experienced judging panel- the Holmes Brothers, a Durban design duo; Sindi Shangase, eThekwini Municipality Business Support Programme Manager who is also in charge of the Durban Fashion Fair; Bianca Warren, DUT graduate who owns two fashion boutiques in Umhlanga and Greg Wallac, DUT graduate and fashion industry expert who supplies many SA fashion chain stores and has been a finalist in the Anglo American Mentor of the Year award for several years- faced a tough time as they decided which of the 37 aspirant designers would make it to the top five.
The top five winning categories were Most Innovative Range, Most Commercial Range, Best Menswear Range, Best Range on Show and Best Technical Student.
– Naledi Hlefane
Pictured: A fashion range with a twist, third-year Fashion and Textiles student Nomfundo Madlala (pictured with models above) creates a connection between fashion and biology with her human-anatomy inspired collection. This range saw her taking the coveted Best Range on Show award at the 2013 Annual DUT Fashion Show finale on Friday evening (October 4).