A Durban University of Technology (DUT) staff member, Mthokozisi Mnculwane has led by example by obtaining Cum Laude and a Dean's Merit Award for his Master's in Management Sciences in Administration and Information. Mnculwane who is a Residence Co-ordinator under the Department of Student Housing and Residence Life will be among the graduands who will be honoured for their academic excellence during the DUT 2021 Virtual Autumn Graduation ceremony on Friday, 28 May 2021.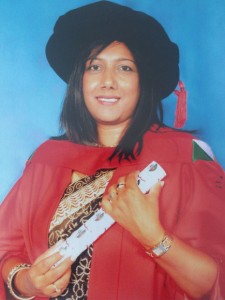 Speaking about his journey at DUT, Mnculwane who is originally from Mooi River, in the Midlands, KwaZulu-Natal said he joined the University in 2007 as a student enrolled under the Faculty of Accounting and Informatics in the Midlands campus. He has a Diploma and a Bachelor of Technology degree in Office Management and Technology.
"I completed my BTech degree in 2011. In 2012, I got a job at DUT under Student Counselling and Health – HIV/AIDS Unit where I was working as the administration assistant. While I was working at the HIV/AIDS Centre, I enrolled for a short course (Project Management) in order to enhance my knowledge and skills for better opportunities. In 2016, I was promoted to be a Project and Health Promotion Officer in the same Department, where my core duties were to plan and the implementation of health care projects, working with Peer Educators to promote healthy living through events, dialogues and workshops in residences, on campus and with surrounding communities. I am currently working as the Residence Co-ordinator under the Department of Student Housing and Residence Life, since 2019," said Mnculwane.
He said his core duties is to manage a cluster of DUT owned residences, ensuring that he supports the department with directives concerning maintenance requirements, safety and health, development of residence buildings (looking at innovative infrastructural, asset management, etc), working closely with relevant departments, ensuring that municipality standards for buildings are met and to develop systems that will enhance processes and operations.
His thesis focused on the perceptions of students towards administration of health care services at Isolempilo Clinic. Giving more details on his research, Mnculwane said it was motivated by conversations he had with students when he was still working for the HIV/AIDS Centre. He said through dialogues, he would note the challenges that some students experienced regarding the level of service they received at our health care clinics.
"The purpose of my study was also to identify the quality of service dimensions that play an important role in patients (students) satisfaction. The study investigated factors impacting on service delivery at the Isolempilo Health Clinic. It is imperative that service delivery is continually improved and quality is not compromised since it provides a vital service. The study provided a means for students to give valuable feedback about their experiences at the clinic. Areas of service that may require improvement together with findings of this study will be shared with relevant stakeholders at DUT," he said.
Explaining how he managed a full time job and his studies at the same time, Mnculwane said it might not seem possible, however is it possible with just a bit of an effort. He said his current job is really demanding and requires him to work after hours and on weekends.
"Nevertheless, if you have a full time job you will need to figure out the remaining number of hours you have, which you can invest in your study schedule, it can be evening hours, weekends or even midnight hours. I made it a habit that each day I will spend 1 to 2 hours just for my studies. As a student, you just need to set your priorities sharp, by determining where you really want to invest your energy on. Make a detailed timetable for your education and personal life, develop a study plan which will work for yourself. Being a student sometimes is stressful, please make use of supporting structures that we have at DUT such as Student Counselling. You can't do it all by yourself we all need support," advised Mnculwane.
This year, he said he plans to enrol for a short course through DUT, which will be focusing more on his current job.
Giving insight on what motivates him to excel in his studies Mnculwane said: "I am a firm believer in personal and academic development as it makes me a better person. Further to that, I always wanted to set a good example and be a role model to the younger generation. Through dedication and working smart, I believe we can all achieve good quality work. Working at DUT has exposed me to many opportunities and the prospect to further my studies in order to advance in my career."
He expressed his sincere appreciation to his supervisor, Dr Rosaline Govender whom he said gave him tremendous support, provided timeous feedback on his numerous drafts and encouraged him along his academic journey.
Pictured: Mthokozisi Mnculwane and his supervisor, Dr Rosaline Govender.
Simangele Zuma