With COVID-19, 'the new normal' has now become a more digitalised platform, even for the Durban University of Technology's (DUT's) Department for Drama and Production Studies.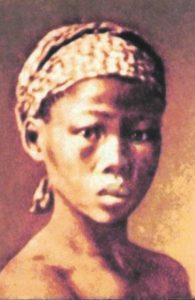 DUT's Dr Pamela Tancsik, a Senior Lecturer at the Department for Drama and Production Studies and specialist lecturer for Educational Theatre speaks about the first online theatre production called Krotoa was not told for nearly 400 years. She is also a professional puppeteer, stage director and theatre practitioner for more than 30 years. She lectured many years for the UKZN Opera Studio and Choral Academy 'German for singers' and stage craft. She has a masters and a PhD in theatre history from Ludwig Maximillian's University in Munich and is an experienced researcher in the field of German/Austrian and South African music history.
Dr Tancsik conveyed that the story is about the girl Krotoa who came at the age of 15 from her native tribe of the Khoena people in the Cape into the household of Jan Van Riebeeck and his French Huguenot wife Maria. She indicated that Krotoa had married a Danish member of the VOC, Pieter van Meerhoff. She relayed further that Krotoa was sent to Robben Island and died there.
"She is called the mother of Africa and the mother of the Afrikaans language because she and Meerhoff were the first mixed marriage and her children became the founders of the Afrikaans people in a way," she stressed.
The DUT cast were: Krotoa -Philile Njikija; Johan van Riebeeck-Aphile Gobhozi; Doman-Godlimpi Khululekani; Pieter van Meerhoff-Godlimpi Khululekani ;Sam-Likhona Menzeleleli; Thijs-Sisipho Msutho (Advanced Diploma Student); Oedaso-Msizi Biyela (chief of the Khoena people); Mrs Ten Rhijne-Andile Dladla; Chorus-Andile Dladla and Inezile Hlophe; and Stage Manager-Inezile Hlophe.
She indicated that three years ago the playwright Sylvia Vollenhoffen wrote the play 'Krotoa Eva van de Kaap' which was first performed in Amsterdam/Netherlands in 2018.
"Just before a feature film came out (Krotoa 2017) and before that a documentary. That is how I heard about the story. My plan was to stage it already in 2020 in August but then COVID-19 happened. I think this is part of the colonial history of South Africa which had been oppressed for a very long time and it needs to be told. Especially the culture, the history and fate of the Khoisan people which are to this day not really widely acknowledged in South Africa. Their language is not even an official language in South Africa but they are the first nation people," she said.
Dr Tancsik spoke on the process of how it became an online production saying that there was no initial concept for an online production and DUT students were rehearsing for one week in the Courtyard Theatre for a stage production when level 4 happened and then the following week the riots happened.
"So there was a break of more than two weeks after we had started to block the play on stage. I learned within two days how to proceed with Zoom and I called rehearsals with my cast on Zoom. Some scenes were pre-recorded at my house and put in during the livestream performance," she said.
Sharing more about capturing such an event with the digital audience, Dr Tancsik said that with the assistance of the DUT Design Department a poster was created and it was advertised through DUT. She sent it out to the DUT mailing list, and had asked students to advertise on Facebook. She added that the playwright Syliva Vollenhoffen advertised it on Facebook and on both days there were international audiences from Holland, England, Germany, Austria, Switzerland and Austria.
As a theatre lecturer, Dr Tancsik indicated that this type of digital interaction for the students and DUT is vital.
"I think it is very important. The future for life theatre and stage productions looks very bleak in this country, especially in Durban. The Athol Fugard Theatre in Cape town has closed down, alot of actors find themselves out of work. The Hilton Theatre Festival first time in its history is not happening this year, so the future does not look too good. Students need to upskill themselves and be able to turn to digital media if there are no other ways for showing their plays," she conveyed.
Going forward, Dr Tancsik who teaches Educational Theatre for second and third-year students and because of COVID-19, they cannot perform in a pre-school and high schools as they normally do.
"On 4 October 2021, a digital Forum Theatre piece on the topics of depression and fighting depression and questions around wrong masculinity and violence against women and children will be performed via the Microsoft Teams' Digital Forum Theatre with the DUT community," concluded Dr Tancsik.
Pictured: Dr Pamela Tancsik
Pictured: A portrait picture of Krotoa-(Google Image).
Waheeda Peters