The Durban University of Technology's (DUT's) Hester Jackson, an Industrial Engineering lecturer from the Faculty of Engineering and the Built Environment, is elated to be one of the winners in the Computer Aided Three-Dimensional Interactive Application (CATIA) Summer Design Contest 2021.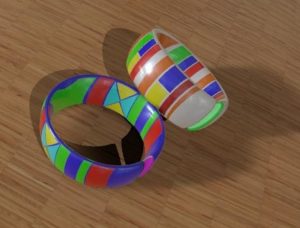 The CATIA Summer Design Contest 2021 is where online users across the world are given the opportunity to showcase their creativity and their designs skills virtually. The top 10 entries who received the highest likes were the winners of CATIA prizes.
Jackson was elated to win such an esteemed digital competition which is the first time for her.
"I am overwhelmed, I never had any experience of 3D designing before, so when I received the opportunity to be part of the lecturers to train on the 3D experience platform, I took it, and I do not regret it at all," she said.
Jackson conveyed that she was told of the competition by Laurent Marche, the leader and trainer of the 3DEXPERIENCE Project at DUT.
Explaining further, Marche said that in the heart of the partnership between France and South Africa is the PLMCC project at DUT.
He indicated that this project is supported by the French Ministry of Education and Dassault Systèmes company.
"The main goal is to train lecturers, students and partners on a disruptive 3D design technology. Marche works very well on the 3DEXPERIENCE project, and comes regularly to the lab. I try to find attractive projects and I found the bangle project by Ms Jackson interesting," he said.
Jackson added that the Zulu bangle was actually envisioned by Marche.
He visited the Victoria Market in Durban, and tries to find projects for us to train on the 3Dexperience platform. It could be technical projects but sometimes we can also work on fun projects. It`s a fun design and I learnt new apps and tools on the CATIA native app, and the 3D experience design software was used to design the Zulu bangles. The future idea is to print a prototype on the 3D printer," she replied.
Marche said that he can train new skills from the 3D EXPERIENCE platform through the bangle design, and is happy to learn that Jackson won a prize in the CATIA Summer Design Contest 2021.
For Jackson, her keen passion is in online teaching and learning methods, and how DUT students can benefit the most from these online learning techniques, to become top engineers in future.
She also believes it is vital for academics like herself to participate in such competitions.
"By taking part in these competitions, we get the opportunity to receive constructive criticism from 3D designers across the world. We also get the opportunity to network with other 3D design users, and we can share these experiences with our students. ​Furthermore, we can see what the capability of the platforms are and connect with people all over the world, said Jackson.
Pictured: Hester Jackson
Pictured: 3D design of the winning bangle.
Waheeda Peters