The charismatic Gomolemo Mohapi is a young, passionate Applications Development student from the Durban University of Technology (DUT), who is completing his Advanced Diploma in ICT. He has a keen interest in learning about Microsoft tools and technologies such as C#, .Net and Microsoft Azure.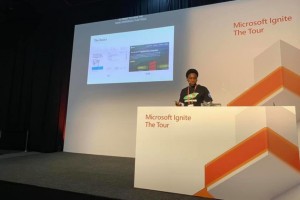 Mohapi through his love for technology, is now part of the prestigious Microsoft Student Partner programme – a community of university students around the world with a deep interest in technology and passion for sharing their knowledge with others. Together with this programme, he hosts workshops on and off campus educating students about the latest in Cloud Computing, Web Development and Artificial Intelligence.
Also, due to his affiliation to the programme, the techno-savvy Mohapi was recently given an opportunity to present at the Microsoft Ignite | The Tour Johannesburg, held at the Sandton Convention Centre from 30 to 31 January 2020.
Mohapi stressed that Microsoft Ignite is an annual conference that is hosted in the States. He said the purpose of Microsoft Ignite | The Tour (which is open to students and professionals who have either a technical or non-technical background), is to provide technical training led by Microsoft experts and people within the developer community.
"I have been involved with Microsoft through the Microsoft Student Partner (MSP) programme for a while now. My dedication to the programme has lead me to become one of the few MSPs to have reached the gold milestone, which is the highest milestone that a MSP can reach. However, I have never presented at an official Microsoft Conference. This was such a huge honour for me and despite all the doubts and challenges that I have been faced with – it goes to show that I have something valuable to share," he said proudly.
Speaking more on his presentations, Mohapi said that the first presentation that he did was called Creating Interactive Documentation with Try.NET. "I am a big advocate of using modern techniques when teaching students how to code. The old way of standing in front of a lecture and reading from the same boring slides is not cutting it anymore," he said.
The second presentation that he did was called the Impostor Syndrome Banishing Spell.
"Being a part of this conference as a DUT student just goes to show that DUT produces high quality, industry standard, students with a broader knowledge of new and current technologies and that we are able to compete on a global stage. And what is great about representing DUT is that other DUT students can see what they are also capable of and hopefully go on to do bigger and better things," he added.
For Mohapi, his goals, going forward, is to work with other Microsoft Student Partners across the country to conduct programming workshops that can be used to upskill members of the community in preparation for the Fourth Industrial Revolution.
"We will be levering the knowledge gained from conferences such as Ignite to ensure that people are learning about the latest technologies. There are a few local and international conferences that I am looking at however, nothing has been confirmed as yet," said Mohapi.
Pictured: Gomolemo Mohapi, at the conference.
Waheeda Peters