The Minister of Higher Education, Science and Innovation, Dr Blade Nzimande visited the Durban University of Technology's (DUT's) Indumiso Campus in Pietermaritzburg to discuss the progress of the Imbali Education Precinct (IEP) on Tuesday, 20 April 2021.
The IEP is a development which the Minister proposed in 2014, where DUT was positioned to play the role of the anchor organisation in the development of the IEP and a resourced project office to enable the work to be taken forward, was set up at DUT's Indumiso Campus.
Addressing the media during his visit, Dr Nzimande said he was there to revitalise the development of the Imbali Education Precinct, an idea which goes back to 2014.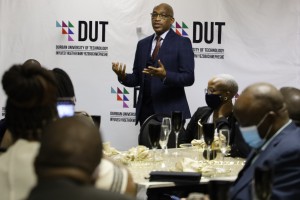 "It was originally perceived as an education precinct because of the number of the educational institutions that are next to each other. It has not grown as we are revitalising it to also become an innovation precinct. There are very few places which are like this in the country, where you have got three primary schools, three high schools, a university campus, a TVET college campus, all in one place. It is a very historical area which has got the hall where our late president, Nelson Mandela addressed his last meeting before he was arrested in 1962. It is cultural and historic centre as well," said Dr Nzimande.
He said his visit was for him to get an update on the work that has been done, which he said he was very pleased with the progress. Dr Nzimande thanked the DUT Vice-Chancellor and Principal, Professor Thandwa Mthembu who was also present at the event, for being at the helm of this project. He said Prof Mthembu has taken personal interest in the project and expressed his gratitude to the newly appointed Project Manager and Dr Joe Molete, the Director of DUT Midland Campuses.
"What I also saw here in this campus is very impressive. I often drive outside here going home, I never knew there are such things. One thing that touches me personally, I feel a bit emotional about it. I never thought that one could actually acquire an engineering degree in a township. To me that just says it all. I am deeply disturbed by the extent of violence in this township and I am pleased that Minister Bheki Cele was here recently. I want to call upon the community to stand up including all political parties to make sure that we stand up to defeat the scourge of criminality. This project has got so much potential not only to provide skills to people but opportunities to innovate. People with ideas, we are here at an entrepreneurial centre in the innovation hub, young people can be assisted on how to start a business. I see a great future for this institutions which is something crucial for Pietermaritzburg and the Midlands region," said Dr Nzimande.
He said the IEP is a place whose innovations can lead to the building of new industries, a place to advance modern technology. As the Minister of Science amongst other things, Dr Nzimande said South Africa has got enough talent, to enable it to be not just consumers of things that have been innovated or produced somewhere else. He said South Africans are capable of being innovators and producers of knowledge that can also be used by the rest of the world.
Prof Mthembu expressed his gratitude to the Minister and all the potential partners such as the National Lottery and the local governments involvement in the IEP. He thanked the DUT team involved in this project for not only talking about the things that need to be done but showing the work that has already been done. He said it shows that DUT has got the capacity to receive money from the departments and deliver on its promise.
"We have ideas of bringing more DUT members in the projects that we are doing, to spread the knowledge and innovation we have. Thank you so much to the Minister, Blade Nzimande for taking his time to visit us and trusting us with this huge project," said Prof Mthembu.
DUT Midlands Campuses Director, Dr Joe Molete said the Department of Higher Education and Training gave DUT, R5 million rand to kick-start this project and said they already have 10 partners waiting to collaborate with them on this project. He said this project is still going to be launched officially. He said the reasons behind an innovation hub in the township is that most people are struggling and are unemployed. He said most innovation hubs are in urban centres and they need to be brought back to the people.
Pictured: The Minister of Higher Education, Science and Innovation, Dr Blade Nzimande durinh his visit at DUT's Indumiso Campus.
Pictured: DUT Vice-Chancellor and Principal Prof Mthembu addressing the guests at Indumiso Campus
Simangele Zuma