To prepare student entrepreneurs to enter the anticipated Urban Innovation and Entrepreneurship Competition and the Entrepreneurship Development in Higher Education (EDHE) Entrepreneurship Intervarsity 2021, the Durban University of Technology (DUT) Midlands Entrepreneurship Centre and Student Desk and the Durban Entrepreneurship Desk hosted a four-day Pitch Readiness Training at Sica's Guest House in Durban, last week, from 19 to 22 April 2021.
35 Student entrepreneurs from DUT were invited to this training consisting of business experts who shared their entrepreneurial knowledge focusing on Pitch Readiness, Lean Canvas Business Model Training, Business Communication and Brand Positioning. On the last day of the training the student entrepreneurs had a chance to pitch their businesses to the judges in order to be shortlisted to enter the Urban Innovation and Entrepreneurship Competition and EDHE Entrepreneurship Intervarsity 2021.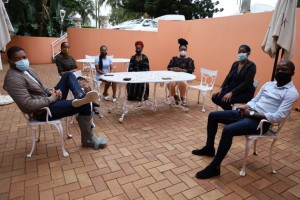 Thirteen students out of the 35 who attended the training, were selected to represent DUT in both these competitions. These students received a warm welcome and guidance from DUT's Deputy Vice-Chancellor: Research, Innovation and Engagement, Professor Sibusiso Moyo and DUT Director: Technology, Transfer and Innovation (TTI), Professor Keolebogile Motaung.
Midlands Entrepreneurship Centre and Student Desk Manager, Ms Nontokozo Ngcobo said the aim of this boot camp was to prepare students from both Durban and Pietermaritzburg to develop a perfect pitch that will make them stand out in the competitions and also help them to attract external financial support.
"They are going to be pitching for two competitions, which is the international EDHE Intervarsity Competition and the second one is the Urban Innovation, which is a global competition. We were preparing them over the last three days and on this fourth day they had to pitch. Now that they have pitched for both competitions, we have selected those who will represent the university in the competitions. For EDHE we have selected eight out of the 35 that attended the training. The regional stage of EDHE consists of four universities from KwaZulu-Natal, those selected will then represent us in the national competition to be held at the end of this year in Johannesburg. We have selected five students to represent us in the Urban Innovation Competition," said Ngcobo.
Furthermore, Ngcobo expressed her gratitude to TTI Director, Prof Motaung whom she said contributed a lot in this boot camp, in preparing the students on intellectual property, pitch readiness and opportunity assessment. Ngcobo said Prof Motaung helped the students to simplify their ideas as some of them are still at early stages of their businesses.
"We would like to thank Mr Mahlangu from Johannesburg who helped in the preparation of pitches. He has also worked with NYDA, assisted them a lot nationally. A big thank you to the mentors and the team from both Midlands and Durban Entrepreneurship Desk. We had to come together and assist these students who will be representing the university. We are also pleased with the students' commitment to the programme and we would like to also thank them for their dedication and hard work throughout the training," said Ngcobo.
Students also shared words of gratitude to both centres for their contribution in their entrepreneurship journeys and in assisting them with business compliance and business training. They had also taken into consideration the constructive criticism they received from the experts with the aim of perfecting their presentations.
Both centres align themselves with ENVISION2030, by ensuring that they engage with industry experts who have a passion for grooming entrepreneurs. They believe through working collaboratively with key stakeholders, the student entrepreneurs can build thriving and sustainable businesses.
Pictured: The team behind the four-day Pitch Readiness Training.
Pictured: The group of students selected to represent DUT at the EDHE Entrepreneurship Intervarsity 2021.
Simangele Zuma